Multiplayer space sim and detailed ship builder Star Citizen will temporarily become a free game during April, as developer Cloud Imperium seeks to resolve issues from the recent Star Citizen 3.18 update by bringing in a slew of new players. The developer says this will help generate an increased amount of player data, which can be used to "identify and fix problems [in Star Citizen] more quickly."
Launching in March, Star Citizen 3.18, also titled Last Legacies, introduced new locations, an overhaul to the space game's cargo system, and expanded salvaging mechanics. Despite being one of Star Citizen's most ambitious and welcome updates, 3.18 has also introduced a range of bugs and technical issues, including disappearing objective markers, in-game terminals not functioning, and the unprovoked loss of certain inventory items.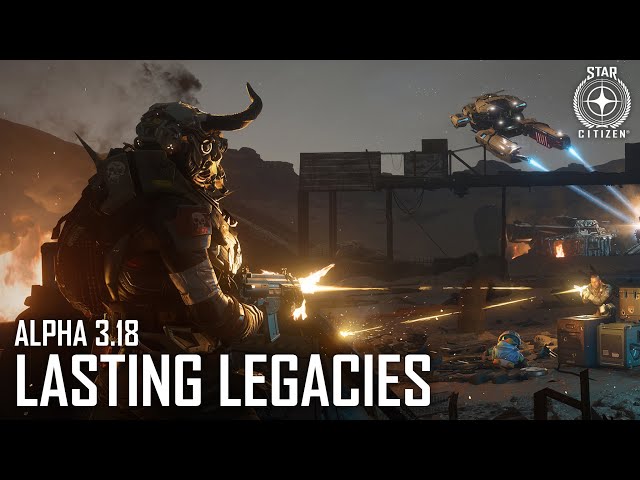 On April 12, Cloud Imperium launched a new Star Citizen patch, 3.18.1, intended to fix some of these problems. The developer now plans to host a 'Free Fly' week between April 13 and April 20 in order to test the patch and the new additions from 3.18 with as many players as possible.
"If you're one of the ones who has said 'this is the worst Star Citizen has ever been,' then hold our beer," the developer writes. "Jokes aside, launching a Free Fly event is a beneficial move for us, as it allows us to test the game's infrastructure with a larger number of players. More players mean more data, which helps us identify and fix problems more quickly.
"This is particularly important as we continue to improve the game, and we want to make sure it can handle the increased traffic that comes with a rapidly-expanding playerbase. Separately, we want to give everyone a chance to experience the latest gameplay additions in Alpha 3.18."
However, Cloud Imperium also says that as "things have been very fluid for us," there is a chance the April Free Fly week could be cancelled.
"We've conducted days of automated load testing to simulate peak traffic on our login service, and our login and entitlement fixes have held up to that volume," the developer says. "However, in the event that we experience catastrophic issues upon rolling out 3.18.1 to the live servers, we may need to pivot away from the planned Free Fly and instead focus all our efforts on addressing and resolving the issue at hand. In any case, our top priority is to keep you all informed, and we will provide updates as soon as we have new information to share."
Check out some of the other best simulation games if you're a big fan of Star Citizen's detailed ship mechanics. You might also want to try some of the greatest multiplayer games, or some free Steam games if you want the biggest bargains from Valve's shopfront.