What are the best free Steam games? If you are bored and penniless, you don't need to fear a gaming drought. Steam is full of games to play without spending a penny (no, not like that). What's more, many of them are very good indeed: games that are just as much fun to play as their full-price, wallet-destroying siblings.
In recent years, free games have become the norm, with some even overtaking paid-for triple-A tiles as the leaders of the PC gaming hobby. Take a quick look at Steam's most-played list and you'll see that a significant proportion of the biggest games in the world happen to be free-to-play.
So, because we desperately care about the health of your bank account – and honestly worry about how much money you're spending on your nasty gaming habit – we want to help you find all the free games worth your time. Below you'll find a bounty of free Steam games, all available to download and play right now. What are you waiting for?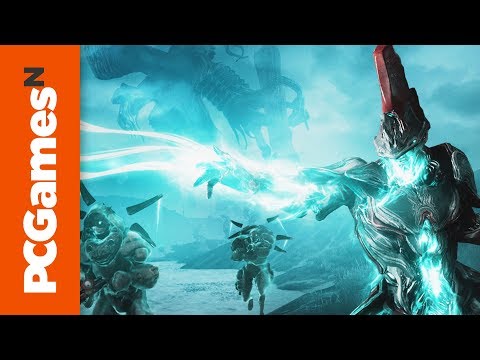 The best free Steam games are:
Smite
Smite is a MOBA with a twist: you control your religion-influenced gods like you would in a third person action game, with the camera positioned behind them. This makes Smite feel a very different kind of 5v5 game, and the differences do not stop there. Smite has numerous modes, including the team deathmatch-influenced Arena. That said, it has still got plenty of familiar stuff: lanes, creeps, and items are all present and correct, and the pantheon of gods is being ever added to. If you are just getting started, check out our Smite beginner's guide.
Warframe
Warframe lets you play as a space ninja, and that is probably all that you need to know to start getting excited. Beyond that, it is a third-person co-op affair that pits you against goons and other space ninjas, all wearing fancy 'warframes' that provide special abilities. It is a slick action game with a hint of Destiny about it, thanks to its buddy-up mission design and shared-world social environments. Part of the attraction is perfecting your own Warframe build so you can clear levels and grind faster than anyone else.
There may be a bit of grind involved if you want to craft the coolest gear, but you will be slicing people in half and powersliding around on your knees for most of that, so don't be too concerned. It is one of the most popular free Steam games, meaning there is always people to play with, and frequent huge, updates like Plains of Eidolon and the even larger Warframe Fortuna expansion.
And there you have it: the very best games available on Steam that will cost you absolutely nothing. We'd even consider some of them the best games on PC. And since they all come at everybody's favourite price, it means you can play even more games than before. Why not try them all and see which ones are for you? It's not like it will cost you anything.