Star Wars Dark Forces is highly underrated when it comes to considering genre-changing FPSs. Aside from being the first Star Wars FPS, just two years after Doom (and a year before Duke Nukem 3D) it was adding innovations such as having a proper story, the ability to look up and down, and an impressive use of elevated terrain. It is, however, very difficult to play now, so it's a good thing that there's a Star Wars Dark Forces remake in the works.
The remake is being done in Unreal Engine 4, and it's not just a fan project made by enthusiastic amateurs – it's actually being lead by a professional developer at Obsidian. Jason Lewis is Senior Environment Artist at the studio, and has presumably worked on the developer's most recent games, such as Pillars of Eternity 2: Deadfire and the upcoming The Outer Worlds.
Lewis has been working on the Dark Forces remake for at least a couple of years, and although it's very much a work in progress, there is a level available that you can try for yourself right now – although it's a little bit wonky.
The project started with an "art project" recreation of A New Hope's famous Mos Eisley spaceport in Unreal Engine 4, done in the style of Dark Forces. There are no enemies, but you can shoot the blaster rifle, meet R2-D2, and look around the Millennium Falcon – although, sadly, you can't go into it. You can check out a playthrough of the level below by Lewis, otherwise you can download it for yourself here.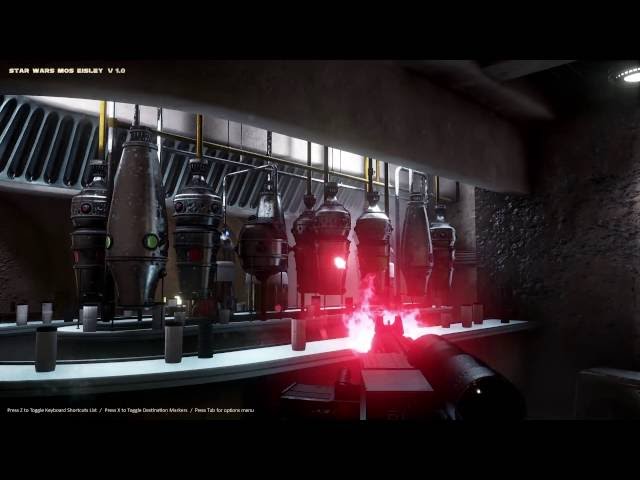 From here Jason and a few other developers began work on a detailed recreation of the first level of Dark Forces, and you can check out their progress on his ArtStation page here. The most recent update was three months ago, where he notes that he's seeking someone to work on character models for enemies and NPCs. Hopefully he'll find someone, because the remake's looking awesome so far.
Related: check out the best Star Wars games on PC
This isn't the first Unreal-powered remake of a classic Star Wars game we've seen recently, of course. Star Wars: Episode 1 – Racer may not be held in quite as high esteem as Dark Forces, but it's still a fun racing game, and it's also getting a full remake. You can try that one out too, if the link stays stable long enough to download it.
Of course, if EA would put the effort into remaking Dark Forces, Racer, Republic Commando, or other beloved Star Wars games instead of cancelling all of their promising-looking projects, the fans wouldn't have to put this kind of effort in to keep Star Wars alive in videogames.