Star Wars Outlaws gameplay is here, as Ubisoft shares the first in-game footage of what might be one of the best Star Wars games yet. Set between the events of The Empire Strikes Back and Return of the Jedi, Star Wars Outlaws is looking really, really good.
Taking place in a time of civil unrest, outlaws are thriving, and Kay Vess and Nix are struggling to make ends meet. It's at this point that Kay becomes one of the most wanted in the galaxy, needing to pull off a heist to get out free.
You can use both Kay's own blaster pistol and Vix himself in combat and exploration, telling your furry little friend where to go and to interact with specific parts of the world.
There are even multiple types of blaster fire to help eliminate different enemies, and you can pick up other weapons during combat to give you the edge. Your speeder will also give you a quick getaway, but chases can ensue where you slow down time and line up shots to take out enemies.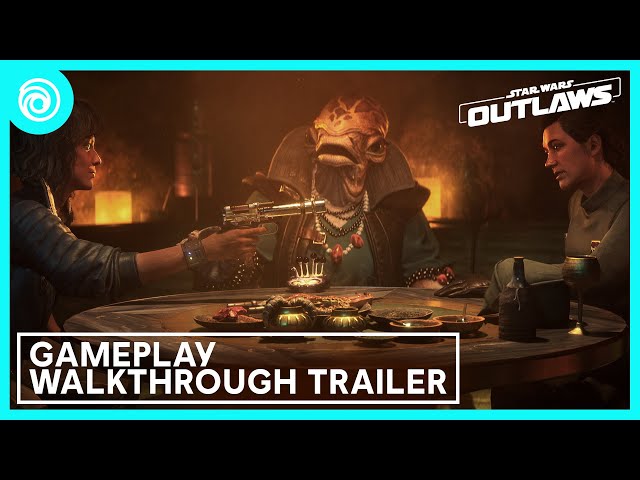 Just like in some classic RPG's like Fallout New Vegas, actions can even have reputational changes for different factions – so beware of consequences.
You can also expect to see space combat, as you'll be hopping between planets and fighting to stay alive at every turn.
We already have the Star Wars Outlaws reveal trailer from the Xbox and Bethesdas showcase as well, so be sure to give that a watch to get an even better feel for what Ubisoft's takes on the galaxy far, far away will be like.
This is a breaking news story as part of PCGamesN's coverage of the Ubisoft Forward livestream. This story will continue to be updated as more information about the breaking news comes to light, but you can check out our news hub for more breaking stories from all the Summer Game Fest events, as well as any other big reveals from the summer of news too.
Make sure you follow PCGamesN on Twitter and Facebook too so you can stay up to date with all the big developments from this show and beyond. We've got gaming news, guides, and hardware updates to share with you every day.
If you want more our breakdown of the best open-world games is the perfect place to start, or you can check out our top picks for the essential single-player games on PC