Massive Entertainment's work on The Division 2's PC version is nothing short of heroic, as evidenced by the Hans Zimmer-esque score underpinning the developer's new PC-focused trailer. The term 'variable refresh rate' has never sounded so epic. In the short overview, we're given a glimpse of just how large a treat PC players are in for when The Division 2 launches on March 15. Think Kit-Kat Chunky, and then double it.
In this MMO-shooter set in a Washington D.C. dystopia, you're getting an uncapped resolution that potentially extends far beyond 4K; AMD FreeSync technology to smooth out framerates and alleviate choppiness; support for multi-monitor setups so you can push the boundaries of traditional displays; and a gnawing sense of loss over the collapse of society. All of it, apart from that last bit, is only possible on PC.
You can watch the video for yourself at the bottom of this article. Make sure to turn your sound on so you can hear the inspirational soundtrack. But before you do that, check out five key reasons your PC is hands-down the best platform to play The Division 2 on.
The resolution is uncapped
Usually, games dictate the graphical terms. In The Division 2, your rig makes the rules. If you want to play at 1080p, you can. If you want to kick that up a notch to 4K, you can. And if your machine is a space-age supercomputer with a processor so smart it's on the cusp of taking over the planet, you're able to set any resolution it can handle.
Technically speaking, you don't even need a space-age monitor to match. The wonders of a tried and tested PC technique known as downsampling lets you run a 4K signal through a 1080p screen, resulting in a sharper picture and brighter colours. You'll see it in the dense foliage and distinct weapon outlines while setting up a shot.
It's super scalable
Now, don't be put off by all this talk of incredible resolutions, because The Division 2 is designed to scale in line with your PC. That means it's going to comfortably run on anything from half-decade-old hardware to the latest cutting edge technology.
Obviously, the better your PC is, the greater the visual wallop. In efforts to keep the framerate as consistent as possible, less blocky shadows and more detailed water reflections are reserved for the more capable GPUs. The outcome is a supremely well optimised game that should be accessible to all but the most outdated PCs.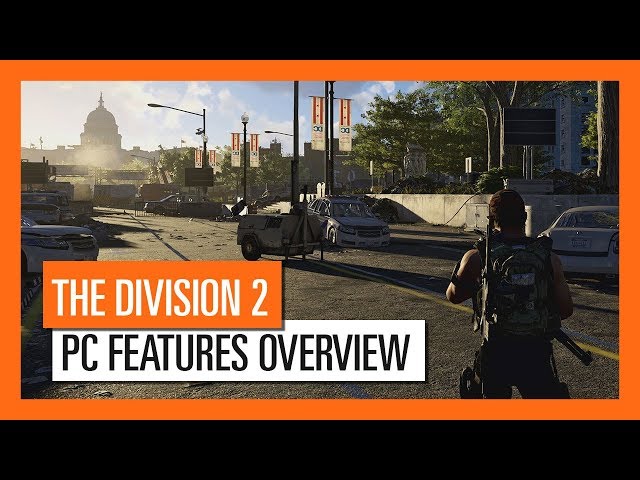 Variable refresh rates are silky smooth
We swear, The Division 2 has something against caps. Not only is the resolution uncapped as we mentioned, but the framerate is too. 60fps? You got it. 120fps? Sure, whatever you say. 250fps? Fine. 80,000fps? Sir, you're scaring people, and if you don't stop then I'm going to have to ask you to leave.
For those more concerned with the framerate dipping under 60fps, the game also supports AMD's FreeSync technology, which dynamically adapts refresh rates to reduce screen-tearing and stuttering. So regardless of your chosen graphical setting, you've got a game so slick you'll have to play it wearing gloves.
There's multi-screen functionality
This is one for the PC enthusiasts/oil barons. If you're fortunate enough to own multiple monitors, The Division 2 fully supports multi-screen play right out of the gate. Specifically, AMD Eyefinity, which allows two or more displays to be combined into a single large desktop.
Ultrawide monitors are also supported, giving you extra screen real estate for a more immersive experience. Whether you want to see the enemies on your flanks, or you just want sweeping shots of a ruined Washington, The Division 2 lets you live your neck-craning, head-panning dreams.
HDR lights up your life
Those who've witnessed the glory of true HDR know just how transformative an effect it can have on games. HDR, or high dynamic range, increases the contrast between tones to make darks darker and lights brighter, and The Division 2 fully supports it. HDR, of course, isn't PC-only, with both Xbox One X and PS4 capable of utilising it.
It will, however, look best on PC. You'll see the sun illuminate grand skyboxes and inky black shadows falling across abandoned streets. Combine that with everything else The Division 2 is bringing your way, like uncapped resolutions, variable framerates, and multi-screen functionality, and this is a workhorse of a game that looks and runs best on PC.
If you want to make the most of these fancy features, you just need to preorder Tom Clancy's The Division 2 on PC . Doing so will get you a Free PC Game of your choice, too: Watch Dogs 2 Standard Edition, Far Cry Primal Standard Edition, or Tom Clancy's Ghost Recon Wildlands Standard Edition.