Following a year of The Division Heartland closed beta tests, Ubisoft's Red Storm team has shown off more of its "unique take on survival PvEvP gameplay" as it brings a unique twist on the Dollar Flu to the Middle America setting of Silver Creek. As part of The Division Day presentation, Ubisoft gives us a meatier glimpse at the upcoming free-to-play multiplayer game, including a look at its distinctive contamination and how development has been progressing.
In The Division Heartland, you'll be helping a Division agent named Mackenzie Amber Reed track down her former boss, Killian Tower – an agent who betrayed his former colleagues and went rogue. Her goal? To find out why Tower broke ranks, murdered the very unit he commanded, and began amassing an army of Reapers across Silver Creek. What of Silver Creek itself, and its place in the greater narrative?
Gameplay-wise, Heartland is described as a "survival PvEvP game," meaning that if you've spent any time in The Division's Dark Zone, or played any extraction shooters such as Escape From Tarkov or Call of Duty Warzone 2's DMZ mode, you'll have a rough idea of what sort of thing you can expect. You'll be trying to take down AI strongholds and factions, while keeping an eye out for other human players who might be eyeing up your valuable loot.
You'll kick things off by helping Reed to get Silver Creek back up and running. You'll of course have to handle all manner of enemy hordes as you do so, along with a "deadly and unpredictable contamination" that poses a unique challenge beyond that of the traditional contaminated areas found in the likes of The Division 2.
This contagion manifests in shifting zones that are denoted by smokey orange lines on the ground – showing which areas are most dangerous to enter, and asking you to decide if the potential rewards found inside the corruption zones are worth the trouble. You'll be able to use filters to enter these areas and nab loot that other players might be steering clear of, but they won't last for long so be sure to move fast!
Heartland's day/night cycle determines the challenges you'll face – nighttime puts enemy forces onto high alert, and also introduces the challenge of potential rogue players looking for a fight. In addition to this, you'll also have to keep your character's hydration in mind, as running short of fresh water will put you at a distinct disadvantage out in the field.
The Division Heartland classes
You'll be able to choose between three different classes in The Division Heartland – Weapons Expert, Medic, and Specialist. Each comes with their own specialist abilities and tools; Survivalists, for example, can detect nearby loot crates by crouching, and get access to a UAV drone that can scan for enemies in the vicinity. Conversely, Weapons Experts can deploy a stationary Assault Turret, and mark enemies that they damage with their gunshots.
By playing The Division Heartland, you'll also earn cross-game rewards that you can carry over to the other Division games. Playing Heartland, The Division 2, and new mobile entry The Division Resurgence will offer you a number of unique cosmetic goodies for each of the other games, so you can show off just how invested in the greater Division universe you are.
As for how Heartland sits alongside The Division 2 and mobile entry Resurgence, creative director Yannick Banchereau tells PCGamesN, "We don't plan to slow down with The Division 2 because of the other games in the Division Universe. All three games offer three different experiences, and playing each of these games will allow you to learn more about what is happening in the overall Division storyline."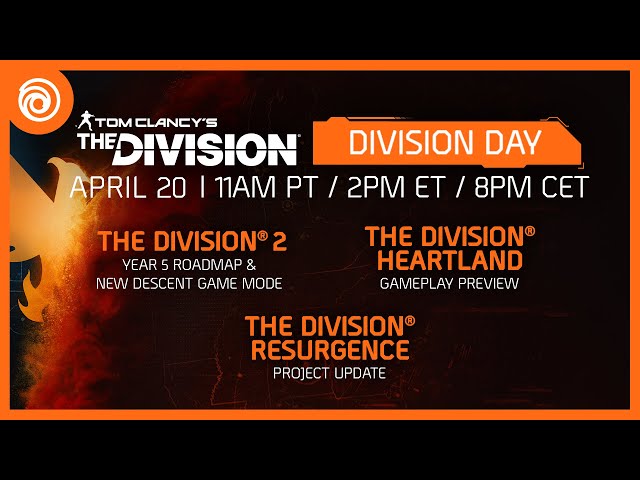 The Division Heartland closed beta testing is ongoing. If you want a chance to join the tests, you can sign up on the official website – and if you're chosen you'll be sent five invites, letting you bring in a squad of trusted friends with you. Or, as Ubisoft's Chris Watters suggests with a smile, "you could also give them to five people you don't trust, and bring a little chaos into your life."
In the meantime, take a look at some of the best survival games on PC if you can't get enough of the thrill of being down to your last bottle of water and up against the elements. Alternatively, we've picked out the best free PC games to make you happy without spending a single penny.