Last year developer-publisher Crows Crows Crows announced The Stanley Parable: Ultra Deluxe, an upcoming expansion to the 2013 indie game. Bringing new content, endings, and "more whimsical adventures of the two best friends Stanley and The Narrator" to the game, the Ultra Deluxe was due to arrive sometime in 2019. Now, the devs have provided a fresh new update and news about its release – in the form of the Narrator answering fans' messages.
In the update video (which you can check out below) the game's delightfully razor sharp Narrator touches on various queries and questions. One raises the topic of development time: is one year enough? Will the Ultra Deluxe be "the best it can be?" Yes, says the Narrator, thanking the fan for his concern. "We gave ourselves plenty of time to make exactly the game we wanted to make. No compromises!"
Another expresses regret for putting pressure on the developers by "spreading the word" to family and pals about the upcoming game. "No-one should have to create art under that kind of pressure, under that kind of time restraint," the caring fan laments. Happily, the Narrator clarifies, "we've experienced no complications or compromising external factors whatsoever."
While he appreciates it when "others feel shame on my behalf," in the case of The Stanley Parable: Ultra Deluxe's development, it's "strictly not necessary." Phew.
Similarly intriguing and entertaining Q-and A-ing continues, which you can check out in full in the video below.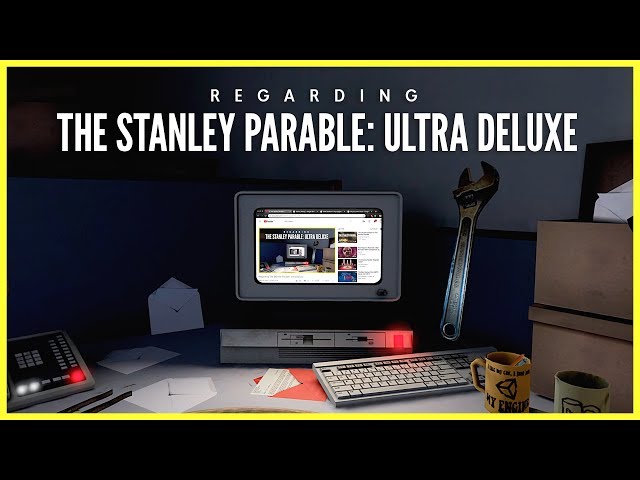 However, the studio ultimately announces that the game will now be released in 2020 instead of this year. There's no sign of a release date just yet, but the Narrator does let us know it will be delayed "to sometime probably before summer, but it sort of depends on the specifics of how development goes."
Well, that's something. At least all of The Stanley Parable's distressed fans can now rest assured the game will get all the development time it deserves. Lovely.