The arrival of The Division 2 year 5 is headlined by its new Descent mode, which puts a simulation spin on the Tom Clancy shooter that draws from the best roguelike games to create an experience that feels fast, accessible, and a fun way to dive into creating cool Division 2 builds without the long-term commitment of the traditional endgame grind. It's also just the first part in the latest year of updates to The Division 2, which include the return of Incursions, a rebuild of the Castle settlement, and more New York adventures.
Ubisoft's The Division Day livestream shows off everything we can expect from The Division 2's fifth year of content, which is broken up into four distinct seasons, the first of which arrives in early June. Season one, Broken Wings, includes the new Descent mode, the return of Manhunts, and the beginning of a multi-season overhaul to the Castle settlement aimed at bringing new visual upgrades to the zone.
This is followed by the remaining three seasons: Season two, Puppeteers, sees the arrival of Incursions, an endgame mode from the first Division that was largely replaced by Raids in Division 2. Season three, Vanguard, marks the return to New York along with holiday-themed events. Finally, season four, Black Diamond, introduces new story DLC and more endgame activities, along with what Ubisoft is teasing as "Seasons 2.0."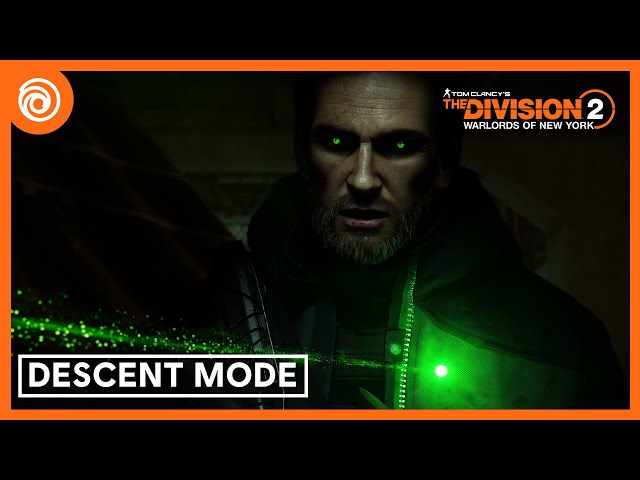 The Division 2 Descent mode
Descent mode is unquestionably the feature that Ubisoft is pushing hardest out the gate for The Division 2 year 5, and I had the chance to spend some time playing it over the past week. This roguelite mode delivers almost exactly what you'd expect from that descriptor if you're familiar with the genre – randomised runs that offer you a steady choice of combat encounters interspersed with the opportunity to pick between various talents and weapons to improve your build as you take on increasingly challenging fights.
Lore-wise, Descent is a simulation designed for training Division agents, and you can take it on either solo or in co-op, with the usual matchmaking options available. You'll start out with a choice of three randomly selected, low-quality weapons and your pistol, and from there you're presented with a choice of three combat encounters. Clear one, and you get to choose a perk; then the cycle repeats until you hit a boss encounter.
Each room has a difficulty level and some preset rewards that are shown up-front, including currency and the occasional presence of a supply shop that can be used to restock between rounds. You'll also see three coloured segments indicating from which three categories your talent choices at the end of the fight will be (so you might get two offensive talents and a utility one to pick from, for example, or two utility choices and a defensive one).
Every fifth room removes your choice of three and hands you a high-value target fight. These are, of course, tougher than the standard rooms and culminate in you having to take down a tough enemy, but clearing them completes the level and earns you both a core stat upgrade and a choice of three exotic talents. Starting a new level gives you another trio of weapons to choose from, and then the process repeats – but at an increasingly tough difficulty.
The exotic talents you'll come across are likely to define your build most dramatically, and they'll be recognisable to endgame veterans as the talents you'll find on many of The Division 2's exotic weapons and gear. By far my favourite build saw me pick up 'Breathe Free,' the talent of the Lady Death SMG that grants you a huge damage buff as you run around, and the Pestilence's 'Plague of the Outcasts' that applies a stacking damage-over time to any enemies you hit, which can then spread to nearby foes if they die.
The ability to put talents on skills that might not traditionally have them is immediately immensely satisfying; the Bullet King LMG's 'Bullet Hell' talent that removes the need to reload is good enough on that weapon, but getting to apply it to all manner of SMGs, shotguns, and rifles makes for some very entertaining gameplay options. Even if you're a long-time Division 2 veteran, you'll likely still find plenty to enjoy in this new mode.
Along with in-run currency that can be used to replenish ammo and resources or upgrade things such as your grenade and armour kit capacity, you'll also earn a second currency called NSA Tech that can be used between runs to incrementally upgrade your character's starting kit and the number of talent choices you get offered while going through Descent.
The final wrinkle in proceedings is the Nemesis. As you clear encounters, the Nemesis percentage will fill up, with harder rooms typically causing a slightly smaller increase as compensation for their tougher challenge. When that maxes out, you'll have to face the Nemesis, a powerful AI that directly copies your own character's loadout. Beating them earns you a keycard and a multitude of between-run upgrade materials.
The Division 2 Descent mode release date and public test
The Division 2 Descent mode launches with the start of year 5 season 1 in early June, and is free for all players of The Division 2. If you're interested in trying it, you won't need to wait long either. The Division 2 players on PC can test Descent mode in public beta from April 21.
"It's great for players who won't be able to max out a build," creative director Yannick Banchereau tells PCGamesN, "But for players who have maxed out everything, Descent will allow them to combine things that they otherwise would not be able to combine. This will allow them to reopen their minds and think of new combinations, new mechanics and yes, new builds."
Whether you're a long-time player looking for a new way to mix things up, then, or someone who enjoys the core gameplay of The Division 2 but isn't looking to invest as deeply in end-game grinding, Descent is well worth checking out.
The Division 2 year 5 roadmap
Here is the Division 2 roadmap for year five:
Season 1: Broken Wings
Descent mode
Castle rebuild
Apparel event
Season 2: Puppeteers
Incursion
Castle rebuild
Apparel event
Season 3: Vanguard
Back to New Yourk
Holiday event
Apparel event
Season 4: Black Diamond
Story DLC
Seasons 2.0
Apparel event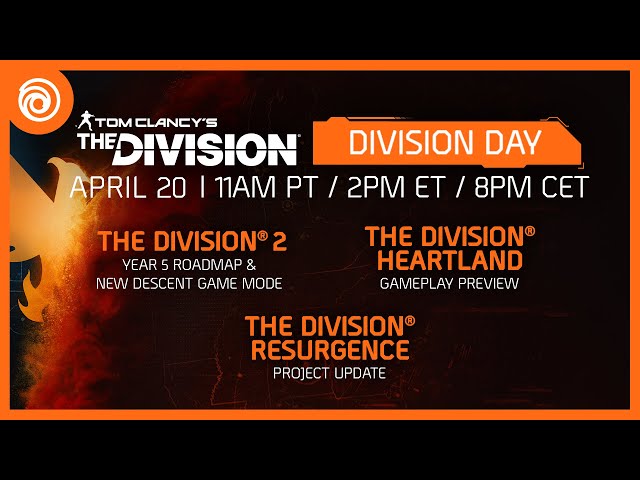 It's a little while until The Division 2 year 5 kicks off, then, but there's plenty in the works to look forward to. Until then, take a look at the best co-op games on PC if you're after more to play with friends, or the best open-world games if you just can't get enough of clearing out a big ol' map.