Videogames often ask a simple question: left or right? Whether that choice comes in the form of a dungeon text adventure or is couched in the more complex dialogue of a modern RPG, picking your path is a central tenet of a medium that thrives on agency.
That's perhaps why a traditionally analogue hobby translates so well to the digital realm in Tracks. This is a game that takes the eternal childhood pastime of linking together chunks of wooden railway and turns it into an intuitive building game – one in which you never, ever run out of pieces. Does the track go left next, or right?
"Everyone comments on the wood and how nice it looks," game director Tom Malinowski tells us. "That's Unreal Engine 4. Unreal makes everything look nicer."
Tracks plays in a way that'll be familiar if you've ever constructed a ride for the thrillseekers of Planet Coaster as it puts you at the business edge of a toy railway under construction. It's your job to plonk down one piece of track after another, like the villainous penguin in Wallace and Gromit, slapping down the railway just before the train travels over it.
Playing with toys
What's lovely about it, though, is that you need not have played Planet Coaster or anything similar – so intuitive is the process of laying the rails. Not only does Tracks appeal to the childhood part of your brain, it appeals to actual children.
"They can just keep clicking the mouse button and things will happen," Malinowski says. "That was a big focus because a lot of kids play it."
The direction of the next piece of track is defined by the position of your mouse, while its height can be changed with a scroll of the mouse wheel. A junction is created automatically whenever your path inevitably dissects an existing line.
"It's complicated under the hood but really simple to use," Malinowski says. "Although all the automatic junction stuff gets more complicated with every piece of track I add. At some point I might have to rethink it, but so far it's really easy to just build."
A sense of scale
There's another layer to the nostalgic fantasy Tracks offers – press 'T' and you can drive the train. Down in that tiny cab, you can appreciate the deep, wooden grooves that keep the locomotive on its path. Look directly at the train's whistle and you can click to pull it, watching the musical notes that emerge from it like bubbles.
A natural rhythm forms in which you build, test, tweak, and then test again. But it's been tricky to ensure Tracks works at both of these scales, simultaneously a builder and third-person model train driving sim.
"Lots of the models have to be more detailed than they would have been otherwise," Malinowski says. "If it was just a builder, I could make it quite basic. But when you get inside the train the buildings are massive and really close."
Tracks has a sizeable selection of buildings – the result of Malinowski's Pinterest hunts for photos of antique toys. Place a railside bakery next to your track and you can get close enough to see the chipped paintwork.
"The first version I had of these houses were damaged quite a bit," Malinowski says. "I asked the artist to make them that way, but when I put them in the game they were so massive they looked really scary. You just had alleyways of damaged houses."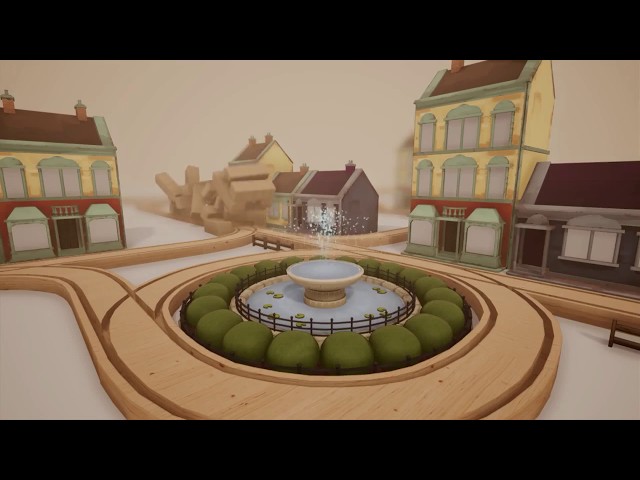 While Tracks was first built for a game jam with a theme of coziness, these buildings came across more like a Stalingrad siege level in Call of Duty. Since then, however, their dilapidation has simply become a charming, surface-level texture blemish.
That hasn't been the only challenge of scale – Malinowski has also worked hard to make Tracks feel small. The game director uses post-processing to create a depth-of-field effect known as 'miniature faking' – the same technique that gives Cities Skylines its distinctive look. It works by sharpening the subject of the image while blurring the periphery in the style of close-up photography, and is enough to trick your brain into processing the scene as small scale – despite a lack of context.
It's testament to the success of the tricks and toil behind Tracks that none of that rises to the top while you play it. Instead, it feels like Christmas morning. The pure joy of toy trains.
"People play it and understand," Malinowski says. "They just instantly get happy, reminiscing. They say, 'Oh, it'd be nice if you could do this thing'. And I say, 'Oh, you can'."
Tracks is available on Steam. Unreal Engine 4 development is now free.
In this sponsored series, we're looking at how game developers are taking advantage of Unreal Engine 4 to create a new generation of PC games. With thanks to Epic Games and Whoop Group.