Trials has come a long way since its beginnings as a Flash game and yet remained in the same, sweet spot, as if the whole series has performed a backflip. Although it's gone through a number of visual glow ups, the challenging and precise platforming that defines Trials has remained, and Trials Rising has a whole new world of gravity-defying and stupidly dangerous tracks for fans to burn rubber on.
Trials Rising has returned to the good ol' plywood and barrel DIY tracks of its early predecessors, a design choice that the fans were vocal about. "When we listened to people, everyone said that Trials Evolution is the best game because it's grounded in reality," RedLynx creative director Antti Ilvessuo tells me. "So we said, 'ok, let's make it that way.'"
Leaving the gleaming metallic tracks of Trials Fusion in the dust, Rising takes place in a variety of spectacular present-day locations around the world. The track menu has been replaced by a map of Earth, with little pins indicating where the tracks are. Grounded is relative, though: after completing the quick tutorial you'll be backflipping off the Eiffel Tower and revving up the side of Everest in no time.
"The track design is not necessarily always done in a way that's only for visual pleasure," Ilvessuo says. "But if you have something that is really strong visually, you always remember what the track was and that helps you play the game."
When I wasn't repeatedly face-planting into the edge of a platform, I was admiring the impressive environmental surprises on the tracks. I'll definitely remember the free fall drop from a plane in Russia, or kicking up dirt under a setting sun in Yosemite National Park.
The Hollywood track in particular has one major mid-run surprise. You bust into a bustling film set with a giant green screen, which as you zoom past switches to an action-packed alien battle scene. It's fun, bombastic, and also happens to be Ilvessuo's favourite track.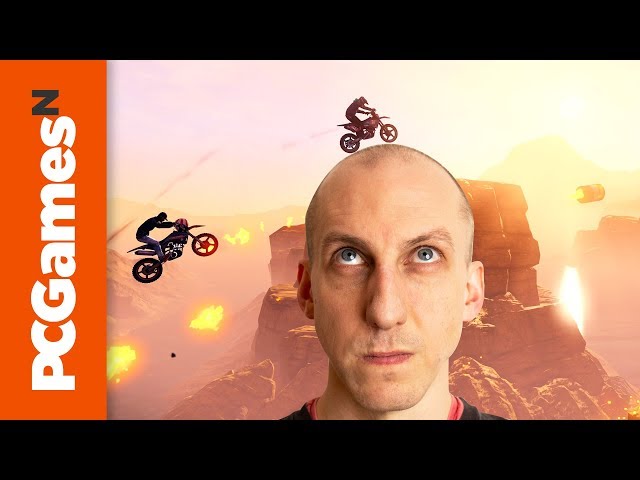 These surprises act as markers along the course, helping riders remember the order of tricks and skills. For riders who want to aim for nothing less than perfect, these visual cues are vital.
Track knowledge and bike balance are the keys to success in the Trials series. When you get into the flow and understand the particular rhythms of a track, it's the best feeling. Which means getting the physics of the rider right is a vital task, and one RedLynx is well aware of.
"The bike physics and how the rider behaves, that always takes time – there's no shortcuts," Ilvessuo tells me. "We could have made a simple bike game many years ago. Two weeks and we'd be done. But it has taken a lot of time to get it right, to not mess it up and to keep it consistent."
The tight controls of Trials Rising leave no gap for blaming the game for your mistakes, and it's not enough to rely on the gas to power you through levels. "Everything is you," Ilvessuo says. "There's no animation delay. If you make a fault, it's only your fault."
The difficulty curves, literally and metaphorically, go pretty high. RedLynx has sought help from community site Ninja Central for some of its most devious levels – ones I'll need to experience vicariously through YouTube if I'm ever going to see them.
Read more: Powerslide into the best racing games on PC
If becoming a Trials dirt bike ninja seems like a lot of dedication then there are plenty of other special challenges, sponsorship missions, and stadium competitions for you to take part in over the globe. What's more, RedLynx has taken a whole other route to dizzying brilliance with the tandem bike, a co-op game mode where each player controls 50% of the bike.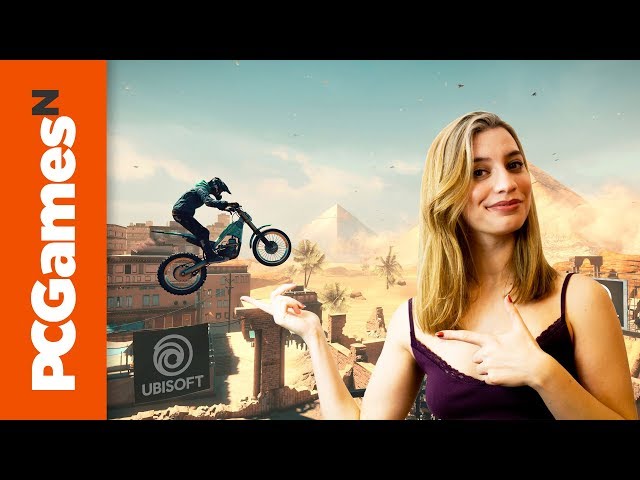 These are different paths to a familiar, satisfying peak. Trials Rising has the same tight controls and crazy stunts as its browser ancestor, just on a bigger stage – a stage packed with pyrotechnics that fling your lifeless body from your bike after attempting to backflip off the Great Wall of China.