Warframe Duviri Paradox is a fresh and trippy open-world expansion due to release in the not-too-distant future, but what else do we know about it? Over the past few years, Digital Extremes has been transitioning from linear levels to crafting open-world spaces players can spend more time in, leaving the older style of running and gunning in narrow hallways behind.
Plains of Eidolon and Fortuna adds oodles of smaller activities you can spend time doing when you're not grinding for Warframes, from spearfishing to hoverboarding. To that end, we can expect Duviri Paradox to add more of the same. In terms of story, this is shaping up to be Digital Extremes' most ambitious open world yet, with the expansion's trailer radiating themes of existentialism. If philosophy doesn't do it for you, then we can glean from the trailer that Duviri Paradox takes the game's core space ninja aesthetic and meshes it with a western vibe.
Information on the upcoming Warframe expansion is still slim; however, as our first glimpse arrived courtesy of a short trailer that aired during Tennocon 2019. So, bear with us as we geek out and fill in some of the gaps with a little bit of detective work (not to mention some idle speculation) until more details emerge. Now that's out the way, here's everything we know about Warframe Duviri Paradox.
Warframe Duviri Paradox release date
Rest easy, as we reckon you'll be waiting a while for the Warframe Duviri Paradox release date. We're still to get a firm time on Digital Extremes' Empyrean arrival, and Warframe's latest story quest, The New War, will be out by Christmas.
While Digital Extremes isn't one for putting a number on things, in regards to a release date, it has developed a subtle rhythm to releases. Its last open world expansion, Fortuna, released not too long after its reveal last year.
That said, Warframe Empyrean took up a good 40 minutes of TennoCon's stream, so we'd say that it's next in line. Also, during the livestream, the Empyrean segment ends as the Duviri Paradox reveal begins. Thereby, it stands to reason that Digital Extremes has set an order to these releases in its live reveal. We say don't expect to be playing this until late 2020 at the earliest.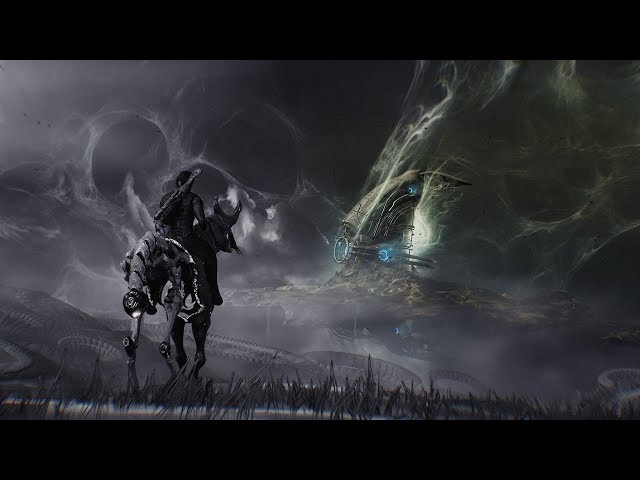 Warframe Duviri Paradox trailer
The Warframe Duviri Paradox trailer displays a bleak black and white world with the only splash of colour coming from something on the horizon, which looks like a crashed Zariman Ten Zero ship. As the trailer plays out, we see a grown-up version of what we assume is an Operator clashing with a foe on a horse. You can check it out in full above.
Warframe Duviri Paradox gameplay
Gameplay was, perhaps, the most lacking detail from the trailer. This being another open-world, though, we can expect smaller activities to busy ourselves with such as bounties, which fits with the western aesthetic of the trailer.
Digital Extremes could also add quirkier features, too. Plains of Eidolon saw the introduction of spearfishing and Hoverboards landed in Fortuna. One of the shots in the trailer sees the grown-up Tenno riding into the horizon on a mechanical horse, so we wouldn't be surprised if they show up as a new mode of transportation.
One of the major themes of the trailer is a loss of power, which has the potential to translate into a specific game mechanic. Typically, this kind of narrative device is an excuse to add in stealthier segments of gameplay. It would be quite a U-turn on the slick and quick gameplay that attracts people to Warframe, though, so it's perhaps unlikely. Another thing it could lead to is more weapon-focused combat.
Warframe Duviri Paradox story
The main story beat we get from the trailer comes from a figure who appears to be an adult version of our Operator. We won't go into spoilers too much – and skip this bit if you don't want to know anything at all – but the Operator is essentially a young person who represents the Tenno, and whose void powers act as the source of the Warframe's abilities.
Before the trailer, and during the Empyrean segment of the livestream, we see our Tenno flying their ship into a void storm – void being something that can sever a Tenno's power. As a result, we see the Operator exit the suit as a child before then appearing in the trailer as an adult.
During the trailer, the older Operator appears to try and use their powers as a foe – some sort of Dax warrior – on a mechanical horse charges towards him. As his powers fail, he opts to go for a Tigris shotgun instead, which was placed into a portal in the ground by the younger Tenno we saw previously. What separates them, however, is that the former appears in black and white and the latter is in colour.
There's a few things this could be, however, from a narrative tool that acts as a flashback to a way to signify people within different dimensions interacting with each other. The story is ambiguous right now, and this is the most abstract and potentially existential trailer we've seen from Digital Extremes so far, so guesswork is all we have to go on here.
Nicely framed: how to unlock Warframe Wisp
And there you have it, everything we know about the Warframe Duviri Paradox update. It's early days, for sure, but this is shaping to be Digital Extremes' most 'out there' update yet. Of course, we'll keep updating this guide as more information becomes available.