Free-to-play tank game World of Tanks has been a cornerstone of online gaming since its release over a decade ago. It continues to be massively popular, and draws in new cannon fodder recruits eager to prove their prowess in this tank-eat-tank world.
As competitive games age and a regular playbase settles in, it can sometimes be, let's go with 'challenging', for new players to gain traction and learn, much less habituate, everything they need to compete. Are you one of those people? Well luckily for you, we're here to help. Bringing together the top minds this world of tanks has ever seen, we've distilled a decade's worth of knowledge and experience into four simple tips on how not to play the game.
Yes, how not to play. World of Tanks is one of the best tank games out there, despite its age. And you see, there are plenty of excellent tutorial videos around right now that can teach you the basics, from movement to gun types, to which tanks are best in class. You don't need us to learn how to play – what you need is someone to save you from yourselves. More specifically, save you from these four simple mistakes that most new players make.
Rush in like a boss
Please, by all means, charge through the countryside like you're a member of the Light Brigade. It turned out well for them, right?
We get it, tanks are cool. Even if you're just getting to grips with the pre-WWII era Tier I tanks, it's ridiculously awesome that you're running around in his armoured hunk of metal, ready to take names and fire for effect.
But just because you're in a big piece of metal doesn't mean you're not also going to get gunned down in a hail of glory and futility, Crimean War style. Maybe instead consider taking your time and taking stock of your surroundings.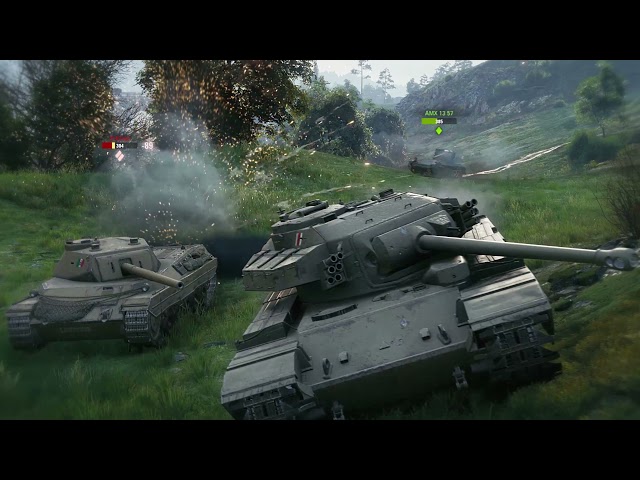 Play for Free
Don't worry about aiming
The first time you'll see the enemy, you'll be consumed by the need to just fire at it immediately. Screw aiming, we have an indomitable will and a fancy hat!
Except – and it might surprise you to learn this – shooting is kind of important in World of Tanks. As is aiming. Granted, while it's universally understood, even intuited, in most shooters that the best play is to shoot at all those soft squishy heads, it's far less obvious when your enemy is made of metal and doesn't actually have anything remotely like a head.
Top tip: avoid the thick front armour and attack from the sides, or better yet, the back. Let the aiming reticle settle first before you shoot, as rushing the shot makes it more likely you'll miss. Know that all this applies to you in reverse as well – keep your front facing the enemy.
If you can't do that, know when to bug out.
Storm that steep hill like it's D-Day
Did you know World of Tanks is considered the best racing game of all time? As such, you could try practising your skills by charging up the next hill or by generally going off-road at every opportunity.
Or you could maybe… not? Sure, a tank's treads enable them to tackle trickier terrain than your nan's Robin Reliant, that doesn't mean you can go literally anywhere. And it definitely doesn't make it a good idea from a tactical perspective. I mean, ok, you could try to take that small rocky outcrop given enough speed, but should you? Should you really?
(Hint: No. No you shouldn't.)
Don't worry about stealth
What's all this about sneaking around? Not in my tank game! Who needs stealth when you have a chassis of hard steel and a mobile cannon stuck to some treads?
But let's be frank – some of the things you can get in World of Tanks to augment your vehicle's abilities are pretty cool. They also give players a sometimes-decisive advantage over others, and you'll need to wait until you can get your hands on the Good Stuff(™) yourself to even the playing field.
What do you do until then, though? Don't be seen. Pretend you're not in a tank and instead you're a giant metal lioness, prowling the tall grass and low trenches to sneak up on your prey. Shrubs are also pretty good to avoid being seen. If nobody can see you, nobody can shoot you.
Bonus round: Don't bother learning what different tanks do
Ok, we're not even going to joke about this one. Please, for the love of god, do actually learn the difference between a tank destroyer and a light tank. Please.
If you need more practice, we can highly recommend the Topography game mode, which pits you against bots and is a great way of learning maps with different tank types. World of Tanks even rewards you with free in-game items for taking the time to learn how to play properly. Although with the above tips, we expect you to be a pro in no time.
Head to the World of Tanks website for some actual top beginners' tips, and to sign up and start playing for free. For other games like this, have a look at our list of the best war games.