Blizzard has just announced the next expansion for its long-running fantasy MMORPG game World of Warcraft: Shadowlands at its BlizzCon 2019 Opening Ceremony. Along with an epic trailer setting the scene that sees Sylvanas find the Frozen Throne and lock into a battle with the Lich King, the studio has unveiled the new zones that the expansion will bring to the game: Revendreth, Ardenweald, Maldraxxus, and Bastion.
There's not much detail to be gleaned about the zones themselves from the announcement, but the footage shown has given us a glimpse at what to expect from the Shadowlands – which a narrator eerily claims are "infinite – their terrors and beauty never meant for mortal eyes."
Revendreth, which we see first, looks gothic and pretty chilling, with scenes of scorched graveyards, imposing castles, and even a vampiric-looking scene in a suitably spooky hall. Ardenweald, on the other hand, looks more fantastical and a little more serene, with glowing blue forests and fairy-type creatures fluttering about. Although, there is a giant horned caterpillar with teeth hanging about.
Maldraxxus is different again, though spooky in its own way – huge cobwebs draping over what look like some really big toadstools point to what you might find there if you're not careful. Finally, Bastion looks like more of a haven away from all the chilling things the Shadowlands have to offer, with a dazzling blue sky, wheat fields, and harmonious architecture.
Get your first peek at the new World of Warcraft: Shadowlands zones in the trailer below: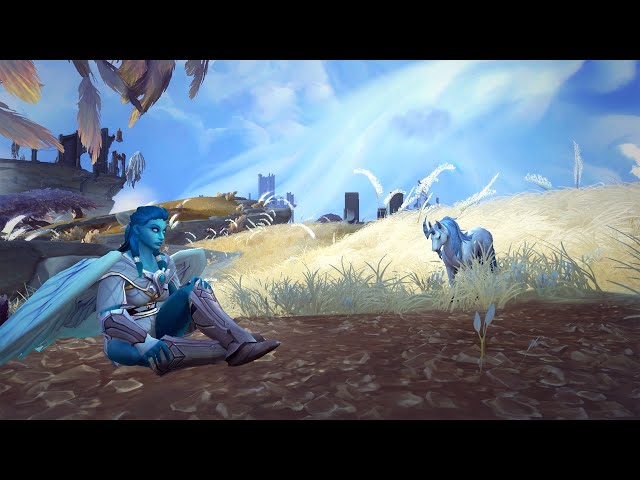 Shadowlands marks the first big expansion for the game since World of Warcraft: Battle for Azeroth launched in August 2018. Though players have since been able to jump into a 2006-style version of the game with WoW Classic, which released August this year, the announcement is surely exciting news for fans ready to get stuck into another big WoW adventure.