A tribute to Marvel Comics' legendary writer, editor and publisher Stan Lee has appeared in World of Warcraft. Ahead of the game's 8.1.5 update, a new NPC, who simply goes by the name Stanley, has shown up in the Alliance's Stormwind Keep.
Stanley, who can be found walking around the keep, comes kitted out with Alliance armour (including some comically large pauldrons), as well as Lee's iconic sunglasses and grey moustache. He seems pretty happy to quietly wander Stormwind, but periodically yells "Excelsior," echoing Lee's famous catchphrase.
The Alliance version of Lee is the only one that's been located so far, but Wowhead has uncovered two more Stanley models within the game's files. One of those is clearly allied with the horde, sporting red armour and some even bigger, spikier pauldrons. The other model simply shows the character in a black shirt, with no obvious allegiances. The locations of the other Stanley NPCS haven't yet been discovered, but I think it's probably safe to say that we won't be finding that Horde model anywhere near Stormwind.
You can take a closer look at Alliance Stanley in the video below: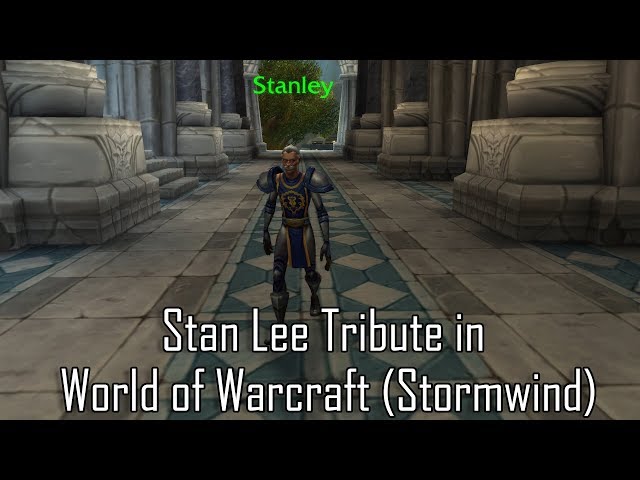 Stan Lee was born in New York in 1922. In the 1950s and 60s, he helped create many of Marvel Comics' most enduring characters, including the Hulk, the Fantastic Four, the X-Men, and Spider-Man.
Related: Here's World of Warcraft recreated in Google Maps
After retiring in the 1990s, he continued to contribute to Marvel, appearing in cameos throughout the Marvel Cinematic Universe. Lee died at the age of 95 on November 12, 2018.