AMD has announced Ryzen 4000 APUs during its CES 2020 press conference. Kicking off the Ryzen 4000 branding (APUs are confusingly ahead of their desktop counterparts on branding but behind on architecture), Renoir APUs will soon be available to purchase in compact packages. Led by the eight-core, 16-thread Ryzen 7 4800H.
A considerable upgrade on the chips before them, Renoir APUs are equipped with up to eight cores of processing power within a monolithic 7nm chip. That's up to sixteen threads in a mobile 45W package – the Zen 2 architecture once again proving the hard work of AMD's engineers following its success with 3rd Gen Ryzen.
All of which AMD will be brandishing to sway hearts and minds and hopefully topple Intel's stranglehold on the mobile market. It's already won over the likes of Dell, HP, and Lenovo, with Asus bagging a special order chip for its Zephyrus G14 laptop announced at CES 2020.
The top Ryzen 7 4800H APU will run up to 4.2GHz boost frequency, 2.9GHz base frequency, and will pack in seven Radeon GPU cores. That's all in a 45W TDP package.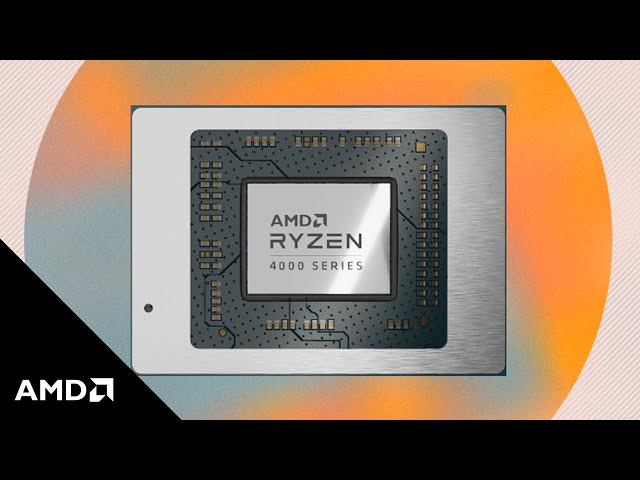 Here's the full list of Ryzen 4000 processors:
Ryzen 5 4800H
Ryzen 7 4800U
Ryzen 7 4700U
Ryzen 5 4600H
Ryzen 5 4600U
Ryzen 5 4500U
"We are kicking off 2020 with a bang, bringing unmatched performance, graphics, and longer battery life to ultrathin and gaming laptop users with the new AMD Ryzen 4000 Series Mobile Processors," Saeid Moshkelani, GM AMD Client Compute, says. "We saw historic portfolio growth for AMD Ryzen Mobile-powered systems in 2019, and we are already on track to bring wider system adoption of AMD Ryzen 4000 Series Mobile Processors in 2020 from major OEM partners, offering twice the power-efficiency from the previous generation."
| | | |
| --- | --- | --- |
| | Ryzen 7 4800H | Ryzen 7 4800U |
| Process | TSMC 7nm | TSMC 7nm |
| Cores/threads | 8/16 | 8/16 |
| Boost clock | 4.2GHz | 4.2GHz |
| Base clock | 2.9GHz | 1.8GHz |
| TDP | 45W | 15W |
| GPU cores | 7 | 8 |
AMD is also launching low-power U-series chips at 15W TDP. Only the Ryzen 7 4800U comes with the full eight Radeon GPU core configuration.
Those Radeon cores within Ryzen 4000 APUs are similar in design to Vega, but with massive optimisations for faster performance, AMD says.
SmartShift Technology is also now bundled in with the red team kit, which allows the system to dynamically shift power between AMD graphics chips and CPU cores for maximum performance per workload.
Will AMD Ryzen 4000 be enough to topple 10nm Intel Ice Lake and 14nm Intel Comet Lake 10th Gen processors? AMD sure thinks so, claiming it to be "the best laptop processor ever built." The benchmarks sure back that up, too. AMD is touting up to 5% improvement versus Intel's Core i7 9750H in single-threaded workloads, and 46% in multithreaded workloads.
The company has swayed at least a few OEMs to brandish its latest gear, and the market has been shifting further in AMD's favour since its initial push with Ryzen Mobile and Raven Ridge. Renoir might be just the ticket to further success.
AMD Ryzen 4000 APUs are expected within vanguard laptops in Q2, 2020.
Check out the on-demand feed of AMD's CES 2020 conference here.