Remember when Lisa Su announced the RX 5700 XT and RX 5700 graphics card pricing to the world back at E3 all those weeks ago? Yeah, she wasn't being entirely genuine. By that I mean AMD had apparently already planned in a price drop for its new Navi-based GPUs because, according to Scott Herkelman, it had decided to "gameplay" the suggested pricing against what it was expecting Nvidia to release.
The strategy AMD employed was based on the competitive modelling of Nvidia's Turing GPUs and what it was expected to release this year, based on die-size and corporate expectations of margin. And once Nvidia had made its move with the RTX Super cards just ahead of the Navi launch AMD "made the appropriate move not only to deposition their Super series," says Herkelman, "but also to log jam their 2060 and 2070. Because we knew that they're having slower success, and we wanted to do a double Jebait."
That's quite a claim, and makes what had appeared to be a hastily restructured GPU pricing stack as a response to Nvidia's Super cards suddenly seem like some sort of seriously Machiavellian manoeuvre.
Herkelman essentially first made the claim in a one-word tweet on July 4, just ahead of the announcement of the price cuts to its RX 5700-series GPUs ahead of launch on July 7. The tweet simply read: "Jebaited."
Jebaited

— Scott Herkelman (@sherkelman) July 4, 2019
He has since gone into detail with Hot Hardware, in a live interview, where he explains AMD's competitive modelling of the Nvidia Turing strategy, and what the red team was doing with its Radeon pricing in response to what eventually occurred with the RTX Super cards.
"We started modeling different competitive scenarios," says Herkelman, "their die size is quite big, and we knew what they could probably afford in terms of margins and pricing and what they were currently pricing their products at."
AMD was also looking into the adoption of the Turing GPUs, "Nvidia publicly says, 'hey look, Turing's out selling Pascal quite a bit.' Well, in that statement, it's a little misleading… in terms of sales, overall, their sales were higher, but it's not in terms of adoption."
"We started using this data to say, okay, if they're starting to see lower sales they're going to be under tremendous amount of pressure on price," he continues. "And they're going to be under a tremendous amount of pressure to figure out what they're going to do to increase sales once we launch Navi.
"We know that they have a tremendous burden on their gross margins, because their die-size is big and so we just gameplayed SEPs."
Pixel pushers: These are the best graphics cards around today
That gameplaying meant announcing Radeon RX 5700-series pricing around the same level as the current RTX 2070 and RTX 2060, knowing Nvidia was going to have to be super-aggressive about pricing its new Super cards, but all the while AMD knew it could comfortably slash another $50 off the $449 original pricing of its RX 5700 XT and smash the equivalently priced RTX 2060 Super.
"The prices that we originally put out," says Herkelman, "we waited to see what they put out. And then we made the appropriate move not only to de-position their Super series, but also to log jam their 2060 and 2070 because we knew that they're having slower success. And we wanted to do a double Jebait, which is not only block their super strategy, but also slow down their 2060 and 2070. Oh, that was the real Jebait. I can't go into too much more about detail, but it's been it's been so much fun these last couple of weeks, just playing that out. It's just fun finally to win."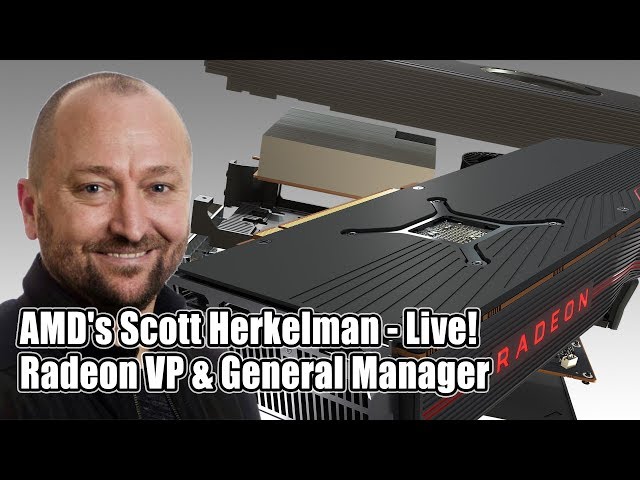 This puts a different complexion on the events of the past few weeks, where the pricing of graphics cards has been shifting around more than in the days of the great GPU mining gold rush. The difference is that all the pricing changes have actually been to the benefit of PC gamers rather than their detriment.
It's interesting to see the way it's worked out, though as much as the gameplaying on price has worked out for the RX 5700 XT I'm not sure it's left the RX 5700 in such a strong position. The XT card comfortably beats the RTX 2060 Super and gets awful close to the the RTX 2070 Super which is $100 more expensive. It's a quality gaming graphics card, offering frame rates which render the $699 Radeon VII ridiculous, even if it does demonstrate the superior efficiency of Nvidia's GPU design.
But the RX 5700 is only $50 cheaper than the XT version and is well behind in terms of performance. When the price delta is so small and performance delta so wide, why would anyone go for the lower-spec Navi? With the GPU market so crowded between $350 and $400, with the RTX 2060, RX 5700, RTX 2060 Super, and RX 5700 XT all vying for your graphics card money, the non-XT Navi is going to struggle until AMD gameplays by slashing pricing again.
Join the conversation about AMD's 'Jebait' on this article's Facebook and Twitter threads.