AMD has announced discounts across its 500-series graphics cards ahead of Black Friday. The RX 580 4GB is now £135, and the top-tier RX 590 is now just £150 – entry-level prices for two of the finest 1080p graphics cards of the previous generation. But with price/performance at an all-time high, how will AMD's RX 5500 series be able to offer anything more?
AMD touts the new offers as "unbeatable value" and we're inclined to agree. The RX 590 at £150 is a tempting offer for most gamers on ageing cards seeking a healthy fps increase for cheap, and a healthy discount from this card's initial £260 launch price.
The RX 580 at £135 is a steal, down from its £220 launch price way back when. That's a touch cheaper than Nvidia's GTX 1650, with performance above and beyond what the green team's budget card has to offer. Not only that, but both Polaris cards come bundled with either Borderlands 3 or Ghost Recon Breakpoint, and a three month Xbox Game Pass subscription thanks to the AMD Raise the Game promotion.
The consumer has all to gain from AMD's most recent price cuts, but they could leave AMD's RX 5500 series a little worse for wear.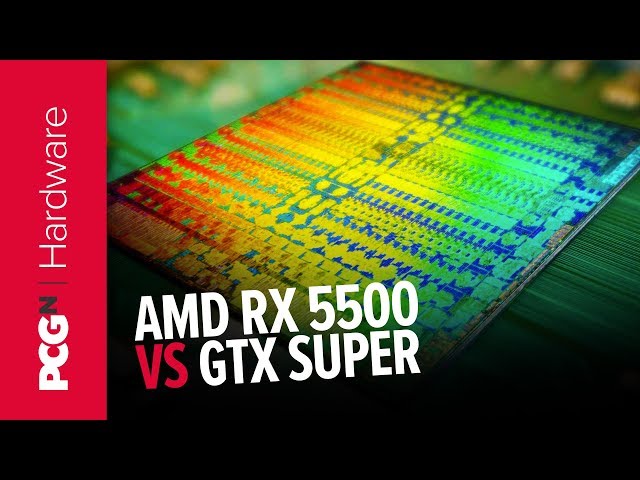 The RX 5500 XT will pack a Navi 14 GPU with up to 24 Compute Units forged in the fire of TSMC's 7nm RDNA architecture. Whether all 1,536 RDNA cores will be enabled in the full-fat XT card is still unknown. What's crucial, however, is that whatever its eventual loadout, it has to meet the RX 590 in price/performance… a tricky task with Polaris prices at all-time lows by AMD's own hand.
Both of the RX 5500 series graphics cards are expected with up to 8GB of the latest standard in GPU memory: GDDR6.
AMD has teased its RX 5500 graphics cards trouncing the RX 480 and GTX 1650 by some margin. How this card and the RX 5500 XT are priced at launch will be make or break for RDNA's mainstream GPUs – at least until prices drop – and that could be tricky given AMD's new pricing strategy.
AMD's RX 5500-series GPUs are expected to drop in third-party garb before January 1, 2020.
Nvidia recently "normalised" its leftover GPU stock from way back when cryptocurrency was still gobbling graphics cards, and AMD has likely cleared out most its inventory overload by now, too. These new prices may reflect the very tail-end of RX 580 and RX 590 chips in the channel, a final clear out to make way for the RX 5500 series, and will likely be the last official discount we see for Polaris.