The AMD Radeon RX 5500-series will bring us the next mainstream graphics cards to come out of the red team's GPU skunkworks. Based on the 7nm Navi 14 silicon, the new RX 5500 cards, including the RX 5500 XT, will be the first genuinely affordable 7nm GPUs ever built, but still have serious competition in the form of the 12nm Nvidia GTX 1660 Super and GTX 1650 Super cards.
When AMD released the RDNA whitepaper earlier this year it promised the graphics architecture would power "gaming GPUs from low-cost to the highest performance," and the upcoming AMD RX 5500-series cards ought to fit into that first GPU bracket. Which will come as a blessed relief considering so many of the graphics cards released this year have sat firmly in the wallet-busting tier of GPUs. From the Nvidia GeForce RTX 2080 Super to the AMD Radeon RX 5700 XT, the graphics card makers have been asking us to spend a lot of cash on the new GPUs they've been putting out.
But now we are looking at AMD filling out its RDNA architecture-powered lineup, finally replacing the successful Polaris-based 400 and 500-series graphics and going head-to-head again with Nvidia's GTX Turing cards. AMD has finally confirmed the next Navi cards, but the full release date info is still somewhat scant. So what is AMD doing?
VITAL STATS
AMD Radeon RX 5500 release date
The RX 5500-series will make its debut in an MSI Alpha 15 laptop with an RX 5500M GPU, with pre-built systems from HP and Lenovo coming in November. But of the mainstream standalone cards, all we know so far is they're coming in Q4, so by the end of the year.
AMD Radeon RX 5500 specs
AMD has detailed the first RX 5500 GPU, sporting 22 CUs and 1,408 RDNA cores. The first Navi 14 GPU that leaked, however, had 24 compute units, with 1,536 RDNA cores, and a maximum clock speed of 1,900MHz. So far we've also seen 3GB, 4GB, and 8GB versions in online databases.
AMD Radeon RX 5500 price
Given that AMD really needs to drop a Navi card that can topple the RX 590 GPUs still in the channel it needs to have a price/performance ratio that can make it a more tempting option. As such a $200-250 price tag, undercutting the GTX 1660 Ti, for the top RX 5500 XT would make sense.
AMD Radeon RX 5500 performance
The only information AMD has provided on this score is some benchmarks against the Polaris-based RX 480 and Nvidia's GTX 1650. It's 22% quicker than the former, and up to 37% faster than the latter.
What is the AMD RX 5500 release date?
Despite an official announcement AMD has still yet to detail a final release date for any of its standalone RX 5500-series cards. A recent 'trivial and urgent' Navi 12 PCI ID update for the final 19.2 release of the Mesa 3D Library suggests that AMD is going to be launching the mainstream Navi GPUs ahead of the first 19.3 release candidate on October 15, but it looks like that's just going to be the RX 5500M laptop chip.
It's going to be a partner-led launch, then, with HP and Lenovo set to drop cards into pre-built systems on sale in November, and Acer in December. AMD's big time add-in board (AIB) partners, MSI, Sapphire, Gigabyte, and Asus all registered a host of RX 5000-series names – including RX 5500 and RX 5500 XT cards – back at the end of June, but AMD has only said partner cards will be shipping sometime in Q4.
That either suggests they're prepping themselves for a host of new cards along the notion of "gaming GPUs from low-cost to the highest performance," or it was all just a codename smokescreen.
On October 1 Gigabyte submitted a slew of new Nvidia and AMD SKUs for registration, including four RX 5500 XT cards and one RX 5500, and again on November 1 the company also registered a further two RX 5500 XT GPUs. Most recently MSI has registered its own 8GB versions of the RX 5500XT, so we should at least have a pair of new discrete GPUs from AMD for the DIY crew by the end of the year.
But you'd hope that timing the release for the Black Friday, Cyber Monday, Christmas, January sales consumergasm that ties up the end of a year would be good business for a graphics card range that's predicated on sales volume.
What are the AMD RX 5500 specs?
Like the RX 5700-series there are likely to be multiple versions of the 7nm Navi GPU believed to be at its heart, the recent Gigabyte listing confirms as much. That will form the Navi 14 silicon into two distinct flavours.
At the moment the only specs we've seen refer exclusively to a singular 1,408-core RX 5500 card, but with so many references elsewhere we can be pretty confident there will be an RX 5500 XT coming out too.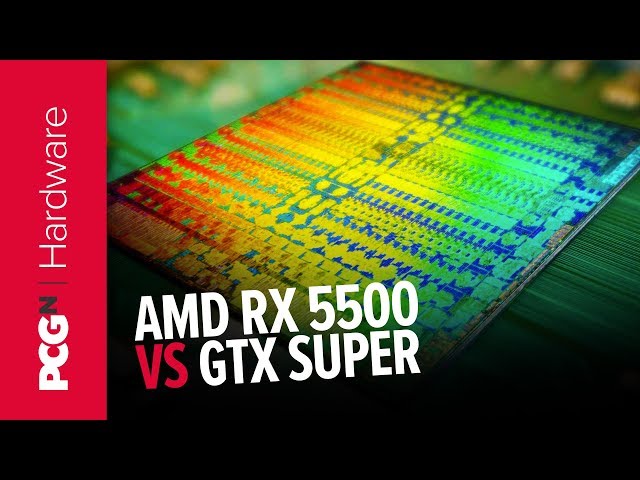 | | | |
| --- | --- | --- |
| | RX 5500 | RX 5500 XT |
| GPU | Navi 14 | Navi 14 |
| Lithography | 7nm | 7nm |
| Compute units | 22 | 24 |
| RDNA cores | 1,408 | 1,536? |
| Peak engine clock | 1,845MHz | 1,900MHz |
| Memory | up to 8GB GDDR6 | up to 8GB GDDR6 |
| Memory interface | 128-bit | 128-bit |
| Transistors | 6.4bn | 6.4bn |
| Die size | 158mm2 | 158mm2 |
We have seen two different PCI IDs in the CompuBench database entries, one AMD 7341 and the other an AMD 7340, but the only specified difference being their relative levels of video memory.
The Gigabyte listing has all of its RX 5500 and RX 5500 XT cards sporting 8GB of video memory, and now AMD has announced that the series will indeed be using 14Gbps GDDR6 video memory.
The full Navi 14 is going to be made up of 24 compute units, and therefore 1,536 RDNA cores. It makes sense for that to be the configuration of the RX 5500 XT. The GPU is also listed as having a maximum clock speed of 1,900MHz, though we have no way of knowing whether that's a peak engine clock, boost clock, game clock, or something else…
That said, it could be that AMD is only going to have a 1,408 core version of the Navi 14 GPU at launch, and will purely be using the XT suffix to denote the 8GB version. The recent Linux listing of three different RX 5500-series SKUs does seem to suggest as such.
We had thought the touted Navi 12 GPU would be the mainstream GPU, but it looks like its Navi 14 all the way, which would leave Navi 12 as some sort of potential high-end option. An RX 5900-series perhaps?
How much will the AMD RX 5500 cost?
There are some very specific price points AMD needs to shore up with its upcoming mainstream GPUs, the first being to make sure the remaining RX 590, RX 580, and RX 570 cards don't stick around as tempting alternatives for prospective buyers. With the RX 590 sitting around the $200 mark, and delivering performance often close to the GTX 1660, the RX 5500-series needs to be hitting that price point with higher gaming frame rates.
Sticking the RX 5500 XT at $200-250, with gaming performance which bests the GTX 1660 Ti, would see AMD nailing the mainstream GPU market, but it remains to be seen how well the smaller Navi GPU can perform against the GTX Turing cards.
AMD will also need to ship a card that puts the RX 570 out of commission. That in itself will be a tough ask considering that for less than $150 the Polaris GPU is an absolute price/performance beast right now. And is still in stock pretty much everywhere. With the RX 5500 targeting the $150 GTX 1650 in the released benchmarks it looks like that's where AMD is aiming.
How will the AMD RX 5500 perform?
AMD has only produced benchmark results for the RX 5500 card, with the 1,408 RDNA core GPU. Still, despite having a relative paucity of stream processors to its name, it's reportedly capable of out-pacing both the RX 480 and Nvidia's GTX 1650. Hence the need for Nvidia to seemingly be in the market for a GTX 1650 Super release…
In AAA games the RX 5500 is capable of some impressive feats, albeit running the three titles in question at medium settings using the DirectX 11 implementation on offer.
It's the performance in the esports arena which AMD seems most excited about, showing the card easily out-gunning the GTX 1650 in some of the most popular games around today. At times by as much as 37%.
The choice of comparative cards is an interesting one here. The GTX 1650 is a $150 GPU, and if the RX 5500 can come in at the level it will be a mighty replacement for the RX 570 that currently sits as the best budget graphics card around. And it will ensure that Nvidia will have to do something rather drastic to wrestle back some control of the sector.
But it's also putting the RX 5500 up against the RX 480, what was a $250 GPU at launch. Where the new series of Navi cards appears in terms of pricing will have a massive impact on just how well received the RX 5500-series are. At this mainstream level every penny counts.
How will the mainstream AMD Navi cards stack up against the Polaris and GTX Turing competition? Join the conversation on this article's Facebook and Twitter threads.