Astroneer is, for my money, the best space sandbox game around. While No Man's Sky has certainly become something really special over the years, the carefully designed economy, exploration, and base-building that Astroneer offers provides the most satisfying emulation of discovering planets and turning their plentiful resources into all manner of gadgets and tools to explore further. Whether playing solo or in co-op, it's a delight – and now a massive Astroneer update lets you completely change the ways you can play it.
"Hey everyone, we're excited to release the patch notes for this very unique update, the Custom Games update," developer System Era Softworks says via Steam and its own website. "This update cracks open Astroneer in a way that allows players to do all sorts of really fun things, from creating new saves with unique characteristics like hardcore permadeath, to setting up exact scenarios and speedruns."
The Astroneer Custom Games update does pretty much exactly what it says on the tin, handing over a previously unprecedented level of control to you about exactly how you want to play. These range from simple settings such as choosing your starting planet and toggling limited respawns on or off, to multipliers on power and oxygen levels to make the game easier or harder, or even full modification of planet generation across the system.
If you like challenging yourself, you can set up permadeath, with toggles on a per-player basis – if you die, your save will be converted to Creative Mode, meaning it will still be accessible but no longer valid for achievements. You can also completely disable certain item types from being researched, such as vehicles, printers, shuttles, or power generators – as well as deciding independently whether they'll appear in the world to be discovered.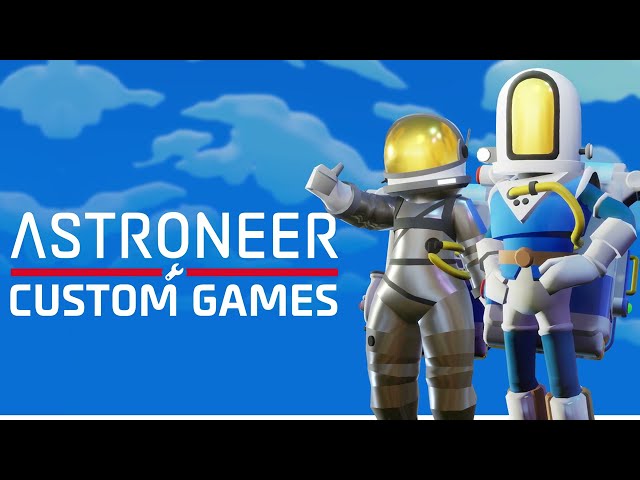 If instead you want to make life easy, you can bump up resource and power generation, or even remove the oxygen requirements altogether, something SES says it believes is worthwhile even if it's "likely to be somewhat controversial." "While this might make the game 'easy' we believe having this option is a good one for players who want a chill story mode experience, or players for whom managing oxygen prevents them from enjoying the game."
If you're a little overwhelmed by the choice, SES has built a number of pre-made setups, and you can customize further from there if you fancy. More accessibility tools are always a good thing in my book, and the sheer level of customization is just the ticket that might get me to strap my space suit back on and go for another round of Astroneer. It's an all-time favorite, and having the option to perfectly tweak the settings to make my experience as much fun as possible is a very welcome bonus.
You can read the full list of customization options below. If you've never tried Astroneer before, I can't recommend it enough, and what better time to start than now? Astroneer is 60% off on Steam ($11.99 / £9.99) until Thursday July 20, 2023. It's also available for free as part of the PC Game Pass library, if you're a member of Microsoft's Xbox subscription service.
Astroneer Custom Games update – version 1.28.65.0 – July 13, 2023
Here are all the settings you can tweak in Astroneer Custom Games:
Preconfigured Game Modes
The first screen will present you with some premade options so you can jump right into a custom configuration. SES will prepopulate these, and eventually, will pull configurations from the community to share with everyone else.
If you want to make your own, click "Create New Configuration" and put your lab coat on.
Sharing
By pressing "Publish Config" you can share your configuration with friends on any platform.
When you publish your configuration we bind it to a numerical "Share Code" that you can give to other users. If they put the code in, all pages will auto-populate with your settings, which you can still adjust!
Custom Game Variables
General
Skip Launch Sequence
No Starting Shelter
Choose Starting Planet
Starting Backpack Items
Select from a number of T1 items to start with in your backpack. You can choose the specific slot where things will spawn for players in your save.
Respawn Settings
Limit Respawns
Limit Player Respawns Individually
Default Respawn Limit
Power Settings
Global Power Generation Multiplier
Global Power Consumption Multiplier
Solar Power Generation Multiplier
Wind Power Generation Multiplier
Oxygen Settings
Oxygen Consumption Multiplier
Free Oxygen Toggle
Research Settings
Starting Research Bytes
Research Reward Multiplier
Research Speed Multiplier
Disable Research Projects

Disable Vehicles
Disable Power Generators
Disable Oxygen Items
Disable Printers
Disable Base Modules
Disable Platforms
Disable Shuttles
Solar System Settings
This is the big one: you can now modify planet generation across the SOL system. These work via modifiers, and can be adjusted per planet or per biome.
You can even set specific seeds so other players can share their amazing start points or seeds so players can experience the exact planet generation. Speedrunners take notice!
Planet-Wide Settings
Gravity
Seed
Ambient Wind Rate
Random Gust Wind Rate
Biome Modifiers (Per Biome)
Biome Weight
Point Of Interest Frequency
Decorator Frequency
Puzzle Frequency
Resource Frequency
Snail Shell Frequency
Astropedia
Astropedia now has two new pages:

The first addition allows players to see the active custom game settings in a list, so you know what things are active in the save you are playing in.
The second is the addition of the credits. The list was getting a little long for our end-game cutscene so we added it to Astropedia so you can read the names of all of the awesome humans past and future that have worked on Astroneer.
New Cosmetic Item
Unlock the "Old Gold" palette by completing the game in hard mode on any save. You must use the following parameters in order to qualify:

Limit Respawns: Active
Default Respawn Count: 0
Free Oxygen: Off
Blast off to explore more of the best space games on PC, with the Starfield release date just around the corner, or keep your feet on solid ground and spend some quality time with your friends playing the best co-op games available in 2023.