Battlefield V has just got Year 2 Edition that adds vehicles, skins, and some weapons that you might have missed from the game's earlier Chapters – as well as the base game, of course. Plus, Chapter 5: War in the Pacific has now landed, bringing "classic" maps Iwo Jima, Pacific Beach, and lots more to get stuck into.
Announced on the EA website, the Battlefield V Year 2 Edition adds all of the vehicles, weapons, and outfits rewarded in the game so far from Chapters One through Four in the live service, Tides of War. There are 17 Primary Weapons included, such as the Boys AT Rifle, ZK-383, MAB 38 rifle, plus four vehicles to try out, such as the Archer tank destroyer.
On top of these, there are two Epic Soldier outfits included in the new edition – the Baron Von Zorn and Double Down uniforms – and ten weapon skins to give your guns a different look, including the White Tiger and Firestarter skins. Speaking of skins, there are also four for your vehicles, too – EA says you can "give vehicles like the Stug IV and Spitfire Mk VB paint jobs of the Epic kind."
The new Chapter 5 update brings its own goodies, too. According to EA's site, War in the Pacific adds the U.S. Armed Forces and Imperial Japanese Army as two new factions, the two "classic" maps, with Wake Island to follow in December, and Elite skins, Jack Culver and Keisuke Nakamura.
Related: our list of the best World War 2 games on PC
There are also more weapons to try: an M1 Garand, Type 99 Arisaka, Japanese SMG Type 100, M19 19A6, with others such as the M3 Grease Gun, Nambu Type 2A, and more to follow as the Chapter progresses, along with some Chapter Reward weapons, like the Jungle Carbine. Oh, and there's a tank-busting Lunge Mine.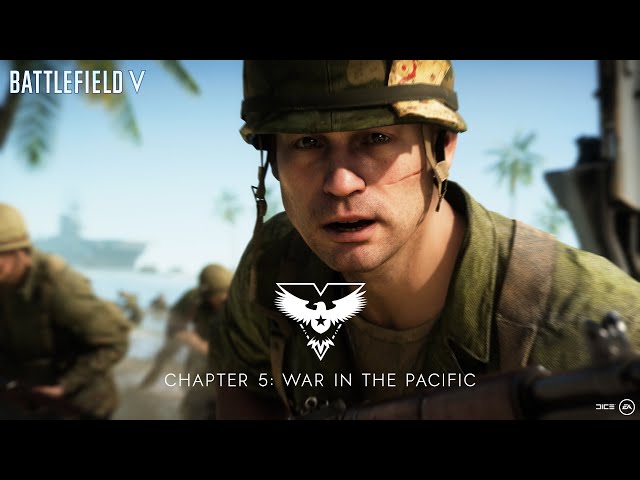 Chapter 5 also brings two new Battle Pickups – a katana and M2 flamethrower – and new vehicles for land and sky, such as the M4 Sherman tank and F4U Corsair to name a couple.
The Battlefield V Year 2 Edition and Chapter 5: War in the Pacific are both out now, and you can check out the details on them in full on the Battlefield V website here. If you're a fan of EA's war game, you might find our Battlefield 5 weapons guide handy for your next trip into battle.