When Apex Legends launched earlier this year, its innovative ping system was widely praised. The feature, which allowed players to voicelessly communicate the presence of loot, other players, and map objectives, has since been borrowed by other battle royale games, including both Fortnite and PUBG, but now appears to be making its way into other genres.
During a panel at Destiny 2's GuardianCon, Borderlands 3 developer Gearbox announced that it would be including a ping system in the game. In a follow-up blog post, Gearbox said that the feature – which is "particularly useful if you play cooperatively without a mic" will allow you to "quickly and effectively communicate the positions of enemies, loot chests, guns, and other points of interest."
Pinging an item will highlight them in-world and on players' minimaps, and, to ensure that you don't miss out on that sweet, sweet loot (or an elusive cultist) your character will fire off a quick voice line to contextualise your findings for your allies. You can see what it'll look like for yourself in the video further down this article.
Gearbox also pointed out many of Borderlands 3's accessibility options. To assist colourblind players, loot will make a different noise when it drops, depending on its rarity, which will also be spelled out on the loot card. All controls can be rebound, making the game fully compatible with the Xbox Adaptive Controller, and you'll be able to toggle headbob, auto-mantling, and crouching and sprinting.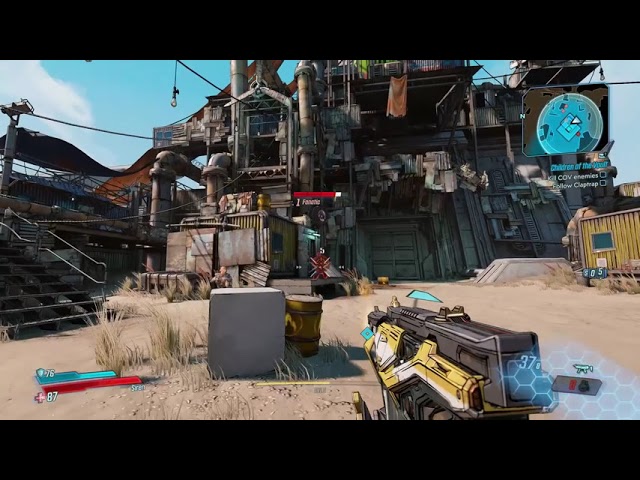 The developer also revealed that Dueling will return in Borderlands 3. But while previously, disputes were settled in a strictly 1v1 affair, the new system will allow free-for-all dueling, letting all players duke it out in a 1v1v1v1 battle instead.
To our fallen comrades: Borderlands 3 wouldn't be what it is without Battleborn
It's an impressive range of features, and given that players also got a closer look at the Echocast Twitch extensions, there was plenty more to see. We're likely to get another peek at the game before the Borderlands 3 release date in September, but it's safe to say I'm already pretty hyped.