When is the Borderlands 3 release date? Borderlands 3 was officially revealed at Gearbox's PAX East 2019 conference, indicating the return of Gearbox's much-loved open-world FPS with a one-billion gun arsenal. During the original Borderlands 3 reveal streams we saw magic tricks, a new card game, and, most importantly, Borderlands 3.
We loved the shoot-and-loot systems of Borderlands 2, as well as its striking art direction and more than 17 million guns. The series took a slight sideways step with Borderlands The Pre-Sequel! in 2014, but we are curious to see how a true third instalment will take shape.
Lots of Borderlands 3 news is emerging all the time: we've seen the HUD, skill trees, and got the lowdown on several of the new wacky characters. So, naturally, we've collected the most important stuff here to help you prepare for the next chapter in Gearbox looter shooter. Below you will find everything we know about Borderlands 3, from the release date and trailers to all the latest news on Gearbox's shooter.
Borderlands 3 release date
When is Borderlands 3 out? We're happy to confirm, after plenty of waiting, that the Borderlands 3 release date is September 13, 2019. However, it will be an Epic Games store exclusive for the first six months. This then prompted Borderlands review bombing of the first and second games. Thankfully, the critical consensus around Borderlands 3 has proven more favourable before launch. That said, we're not out of the woods yet as not every website was given pre-release code – so there may be a Borderlands 3 review here or there you won't be able to read yet.
Whatever your PC platform of choice, that time is going to go by pretty slowly, but we've got plenty of Borderlands 3 details to chew over before it arrives – such as if you want to stump up the extra cash for any of the Borderlands 3 special editions.
One thing that's for sure, though, is that we're unlikely to see any delays before the release date. Gearbox reveals through Twitter that Borderlands 3 has already gone gold, which means that the developer is turning its eye to designing post-launch content.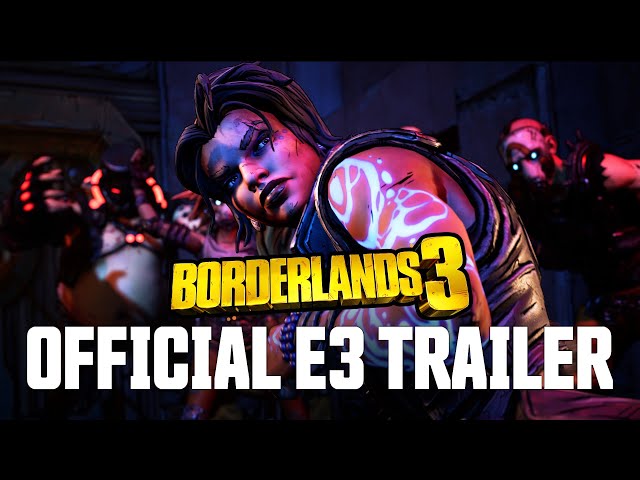 borderlands 3 trailer
E3 2019 has produced a new Borderlands 3 trailer, giving us a good look at the story around Borderlands 3 and its narrated by Lilith. The trailer also shows off a heap of familiar characters and unveils the free DLC for Borderlands 2 that links the stories together.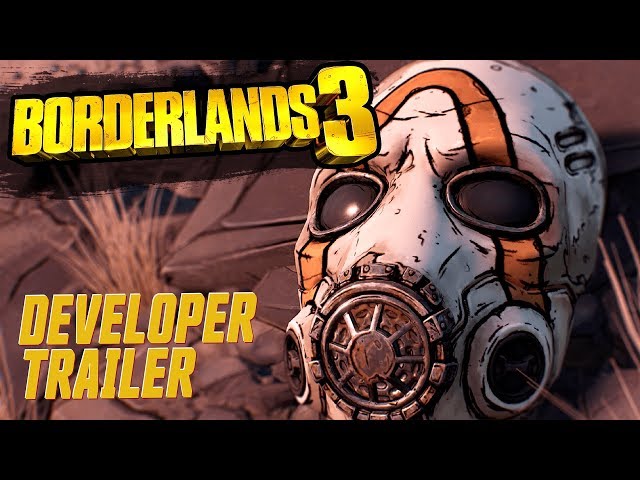 The Borderlands 3 trailer above shows our first glimpse at the third game in the main series. In it we can see the same cel-shaded art style we know and love, plus the multiple planets us wanderlust-filled Vault Hunters were hoping for.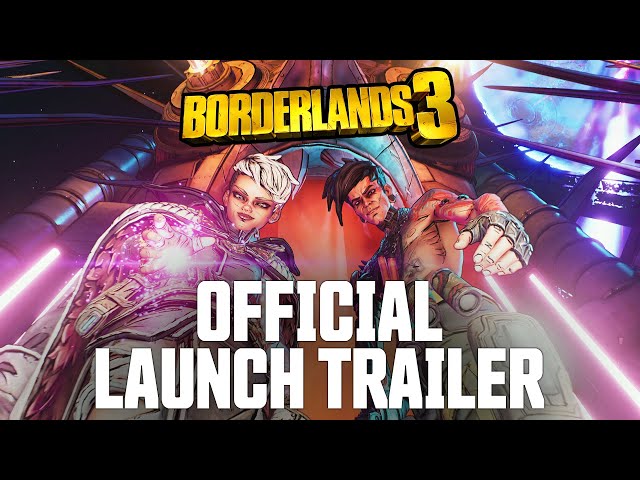 Now we know that the 'Mask of Mayhem' Borderlands teaser is in fact a Borderlands 3 trailer, we can revel in the many hints it includes of what's to come. In it we can see Psychos, a Claptrap unit, and what appears to be a haul of Borderlands 3 characters, Sir Hammerlock, Brick, and Mordecai to name a few.
Borderlands 3 story
The story's antagonists are the Calypso Twins. Both have Siren-like powers – even though Sirens cannot be male – and they rule a cult called the Children of the Vault, which is abbreviated to COV throughout the gameplay reveal trailer. The dark-haired male is called Troy and his twin's name is Tyreen. For our money, they either base themselves on Greek mythology, or they really love fruity ice lollies.
One snippet in the trailer shows a weakened Lilith with none of her Siren tattoos crawling away from the Calypso Twins, with Troy bearing Siren-like tattoos on his arm. One theory about the Borderlands 3 story revolves around Troy and Tyreen stealing the powers of the world's Sirens.
Either way, the story is tipped to start on Pandora, before setting your squad loose across multiple planets. As the trailer shows some older versions of characters like Tiny Tina and Aurelia, it's safe to say that a significant passage of time separates the events of Borderlands 2 from the upcoming sequel.
While we're still yet to learn in earnest what Borderlands 3's story will entail, we do know that the next bit of Borderlands 2 DLC will act as a bridge between the two games. To that end, we wager we'll get some clues soon enough.
Borderlands 3 characters
We now know quite a few of the Borderlands 3 characters thanks to the Mask of Mayhem and reveal trailer. Check out the list in the link above.
While Handsome Jack is in the teaser trailer, don't take it too seriously: Pitchford took the stage at the Gearbox PAX East show to explain that, yeah, he's still dead. Pitchford included him because, in his words, "we're jerks." On the plus side, that is an older Tiny Tina you can see in the trailer and Tiny Tina is confirmed to play a combat role alongside the Vault Hunters in the upcoming game. But, when it comes to bosses, some intriguing Morse code hidden within the game's new dedicated Twitch channel teases the return of Destroyer for Borderlands 3.
One thing that all these characters have in common, however, is that they're wonderfully vibrant and zany. It's clearly something that Gearbox appreciates, as the studio has gone to great depths to create a Borderlands 3 cosplay guide ahead of E3 that's stuffed with high-res images. So, if you're looking to make a start on your cosplay before Borderlands 3 comes out, you should be set.
borderlands 3 vault hunters
Our new Borderlands 3 vault hunters are Amara (Siren), Zane (Operative), Flak (Beastmaster), and Moze (Soldier). If you want to get a sneak peek at a couple of them in further detail, a Twitch extension allowed us a look at the Borderlands 3 Zane skill tree and the Amara skill tree. We've also managed to rustle together a guide about the Moze skill tree, if that's what you want. Want a peek at Fl4k, too? We've pulled together the FL4K skill tree.
However, when it comes to new heroes, it doesn't look certain that there will be Borderlands 3 vault hunters as DLC. Pitchford informed fans on Twitter that the team are instead going to "put our time into expanding what the existing vault hunters can do and how interesting their future growth is instead of adding new ones to start over with." Don't fret, though, there will still be "kickass campaign DLC." And hey, there are plenty of Borderlands 3 builds for you to toy around with in the meantime.
Amara is the new Siren and appears to pack some very powerful abilities including a melee attack with six summoned arms, a self-projection that can attack, and Phaselock.
Zane is our wealthy and classy Operative class. Like Zero from Borderlands 2, Zane can throw out a decoy.
Fl4k is the robotic beastmaster and can choose between three different pets, one of which is a Skag and Fl4k will be voiced by YouTube's ProZD.
Moze is the soldier and can call in a giant mech called Iron Bear that she will pilot, with her skill tree built around her mech pal. Other players can hop on the top of the mech and use the powerful mounted gun, too.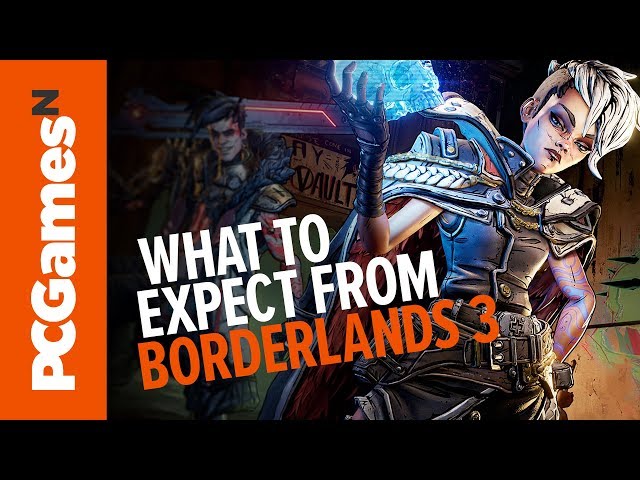 Borderlands 3 gameplay
Borderlands 3 looks similar to the previous games in the series: you'll be shooting various people and beasts with ridiculous Borderlands 3 weapons as you work to make them even more, er, ridiculous. You'll get sucked in once again as you watch the damage stats snowball and try to collect as many guns as possible, in fact, Randy Pitchford has confirmed there are over one billion guns in Borderlands 3.
You can watch our own Borderlands 3 gameplay in the video above and have a gander at how the game will look in the gallery below. In terms of gameplay additions, there will be Borderlands 3 raids, of which we'll find out more at E3. Also Borderlands 3's loot instancing system will be optional. In other words, you can opt out of the system Gearbox have devised to prevent your team members pinching your ill-gotten gains. Mantling and sliding are also new to the game.
Borderlands 3 has built on its progression system with Guardian Ranks, which will offer new skills and skins through completing gameplay related challenges. It will also have a Borderlands 3 ping system, just as you'd find in Apex Legends, or Battleborn, to alert fellow teammates to loot, foes, and quest objectives. And, speaking of Battleborn, Borderlands 3 "wouldn't be as good as it is now" without it, according to art director, Scott Kester.
Gearbox has added two new modes to the Borderlands 3 endgame content, Mayhem Mode and True Vault Hunter Mode. Mayhem Mode "provides gameplay changing randomness to the Borderlands experience" while True Vault Hunter Mode allows you to restart the game after completing the main campaign, with all your loadouts, experience, and equipment intact. How long it takes to beat Borderlands 3 and get here, however, looks like it'll vary.
On the tech side, there appears to be a significant visual upgrade. From Epic's Unreal presentation at GDC 2017 we know that there will be a boost to lighting tech, shadows, and edge outlining. Borderlands is known for its comic-book art style, and Borderlands 3's visuals appear to be building upon that.
Following confusion over the nature of nature of MTX, it has been confirmed that there will be Borderlands 3 microtransactions in the game, but only for cosmetic items. During the game's gameplay reveal presentation, Pitchford said "there's no microtransaction-y, free-to-play kind of stuff" but there will be heads and skins available for purchase. Borderlands 3 Shift codes will also be back, and redeemable on the official Borderlands site, once you've signed up.
Borderlands 3 split-screen co-op
Playing co-op mode on split-screen has been a staple of the Borderlands series but, admittedly, it's a sight that has been becoming rarer of late in the wider industry. After watching Gearbox's official announcement trailer, however, it now seems that Borderlands 3's split-screen will maintain the series tradition, but sadly, only on console.
If this were to happen the obvious perk would be that you can play couch co-op with your buddies like old times. Don't fret though, if the distance between you and your fellow Vault Hunters is too great and this were to happen, you would still be able do co-op online.
Speaking of, there's a chance there could be Borderlands 3 cross-play; Pitchford tweeted that, while it would not be there when the game releases, it will be "as soon as practicable after launch". Naturally, that depends on the suits running the various console shows, but hopefully we can play with our friends with boxes sooner, rather than later.
Borderlands 3 multiple planets
Where the series has stuck to Pandora and it's moon of Elpis so far, Borderlands 3's Sanctuary 3 ship lets you visit multiple. We've already played through part of the Blade Runner-esque planet of Promethea – which you see in our gameplay video above – and there will be others.
Sanctuary 3 is a customisable interstellar hub that allows you to jet between your desired celestial body, tweak the decor of your quarters, and decorate your room with the gory trophies of the enemies you've viciously killed. You can also show off your zaniest guns on weapon racks, change your appearance with the Quick Change machine, and buy supplies from on-board vendors.
Twitchy trigger finger: How to install Borderlands 3's ECHOcast
This has all been confirmed by the Borderlands 3 reveal trailer, which mentions exploring different worlds. The trailer features a number of different biomes ranging from classic Borderlands dust bowl to swamps and sci fi cities. Hopefully these are all different Borderlands 3 planets.
We also recently learned, through Randy Pitchford's Twitter, that we'll get a good look at one of the game's planets as part of Borderlands 3's E3 showcase.
Borderlands 3 PC system requirements
The Borderlands 3 system requirements have dropped, and you can check them out below.
BORDERLANDS 3 MINIMUM REQUIREMENTS
OS: Windows 7/8/10 (latest service pack)
Processor: AMD FX-8350 / Intel i5-3570
Memory: 6GB RAM
Graphics card: AMD Radeon HD 7970 / NVIDIA GeForce GTX 680 2GB
HDD: 75 GB
BORDERLANDS 3 RECOMMENDED SPECS
OS: Windows 7/8/10 (latest service pack)
Processor: AMD Ryzen 5 2600 / Intel i7-4770
Memory: 16GB RAM
Graphics card: AMD Radeon RX 590 / NVIDIA GeForce GTX 1060 6GB
HDD: 75 GB
borderlands 3 steam
Plenty of publishers have been eschewing a release on Valve's PC storefront in favour of the Epic store, and we now know that Borderlands 3 is following suit – thanks to the announcement trailer that dropped on April 3.
Borderlands 3 will be available exclusively to the Epic Store until April 2020. After that, you should be able to get the Borderlands 3 on Steam, too. Epic recently announced Borderlands 3 pre-load won't be available on the Epic Store.