"Counter-Strike 1.6, but with cars." Now, that's a heck of a pitch. If I were a busy videogame executive, and someone walked into my elevator and dropped that idea bombshell, I can safely say they'd be getting a firm handshake, a big green light, and maybe some kind of little gift as a token of my thanks. But don't take my imaginary CEO's word for it. If you're a big CSGO fan, or you're kicking your feet waiting on Counter-Strike 2, Stunt Derby takes the spirit of the Valve shooter's glory days and transplants it into a new low-poly racing game available to try now on Steam.
Visually, Stunt Derby has that angular, chunky, but also striking and kind of appealing aesthetic of classic Counter-Strike. It also allows for custom levels, four-player split-screen (if you miss those CS 1.6 LAN parties), and a variety of game modes.
Oh, and developers Cryptic Sea and NoClip – yes, the ones who make the documentaries – are going hard on the physics. The result is a graphical throwback, often comedic, mid-scale multiplayer game designed and built for the old-school PC crowd.
"It's basically a LAN party game," developer Danny O' Dwyer says. "Super tactical team play, hundreds of custom levels, low poly, but deep gameplay. It's Counter Strike 1.6 but with cars. We're addicted to it and probably going to sell it for like $5."
A single-player campaign, car tuning options, and more game modes are coming to Stunt Derby in the future, but the free demo already allows for three different match types. Relay is the core mode. You and your teammates compete with other squads over three laps.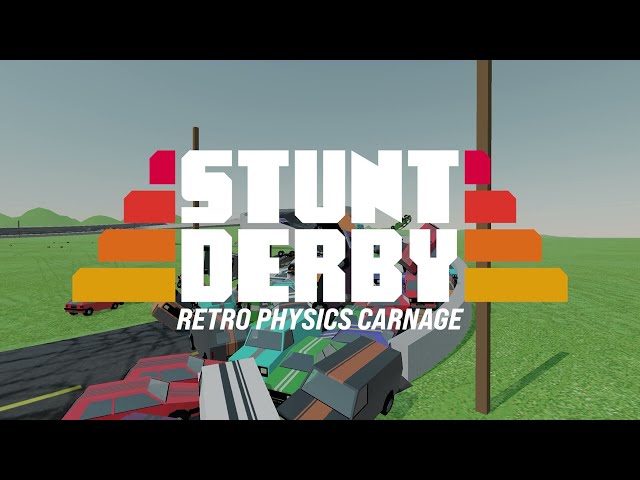 To win, you need to pass through a series of checkpoints, but there's a twist: only one car per team needs to actually pass through the checkpoints, leaving everyone else to block, crash into, and otherwise try to sabotage the efforts of rival cars.
Tag the Leader is a spin on Capture the Flag, whereby you need to ram your opponents in order to steal the flag, then race around the track hitting checkpoints to accumulate points – the points, as you may have guessed, only count when you have the flag. And lastly, there's a standard race mode. "Boring," NoClip says, "but people asked for it." You can try Stunt Derby on Steam right here.
Alternatively, get ready for the next generation of Valve's flagpole FPS as we countdown to the Counter-Strike 2 release date. You might also want to try some of the other best indie games available on PC.