Elden Ring has the huge, scenic, and often magical open-world. Red Dead Redemption 2 meanwhile boasts one of the most in-depth and moving stories in all of gaming, combined with myriad little interactions and details that make the entire experience feel real and alive. Mix that with the parkour from Assassin's Creed Mirage, and some of the fairytale style of Zelda, and you get Crimson Desert, an upcoming RPG game from Black Desert devs Pearl Abyss, which just got a huge new trailer at Gamescom 2023.
The last we really heard of Crimson Desert was in 2021, when Pearl Abyss acknowledged that the first reveals had drawn seriously enthusiastic responses, but said it was taking more time to add "new ideas for an even deeper, more enriching game." For a while, we were kind of worried that Crimson Desert might never be coming. But all that panic is over, as the extremely ambitious-looking open-world game gets a huge new trailer at Gamescom. You can watch the whole thing below.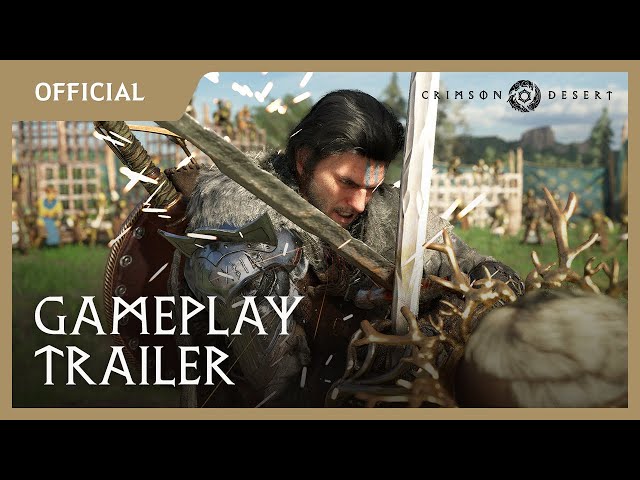 Playing as a lone mercenary, you explore the (frankly beautiful) world of Pywel, ticking off quests, meeting a huge range of characters, and – naturally – going fishing. The navigation and climbing feels just like Assassin's Creed, while the huge scale and dark magic come right from Elden Ring.
Those little pastoral moments, though, like buying fruit from the local store and taking a rest against a bale of hay, come straight from Red Dead Redemption 2. It's like the best RPGs and sandbox games of the past five years all thrown together. We're still waiting on a release date for Crimson Desert, but it's confirmed for PC. This is definitely one to watch.
Otherwise, take a look at some of the other best upcoming games making their way to you soon. You might also want to try some of the best games like Dark Souls, if you're missing FromSoftware.