Good news, Dark Souls fans – a Kickstarter campaign to create a deluxe hardcover edition of the 2016 lore and universe book You Died has launched. Revising, updating, and expanding on the entire book cover-to-cover, the publishing house behind the campaign is also offering a bunch of backer rewards – and something that will be "the definitive love letter to both Dark Souls and the players who can't get it out of their minds."
The new Dublin-based publishing house Tune and Fairweather has launched the campaign. It's collaborated with Andrew Hind, award-winning print designer at Edge magazine, to create the book, which was co-authored by the company's founder Jason Killingsworth and Keza MacDonald and first released in paperback.
In a video announcement of the project (which you can check out below) Killingsworth reveals the hardcover edition will feature design, intricacies, and content reflecting the series' rich universe. Along with a thorough rework to bring the book up-to-date, it will also include a new chapter by him "featuring IllusoryWall from the community, who underwent some serious detective work to figure out the mechanics behind how Vagrants spawn." Plus, it'll feature some easter eggs for fans to discover.
Beyond this, the You Died hardcover edition will include more than 40 full-colour pages of in-game photos, a cover featuring an embossed stamp detail inspired by a rose window (actually based on the game's models), and more special features to enjoy, creating "an absolute delight for the eyes."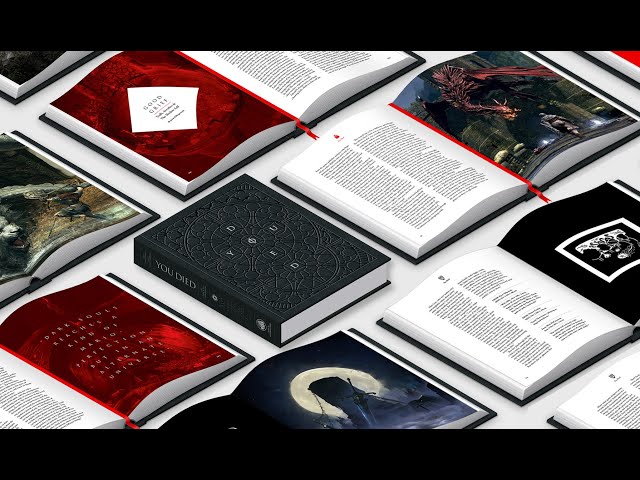 As part of the Kickstarter campaign, there will be a Gravelord Servant Edition (a custom leather-bound edition which comes with a pine-box "coffin"), and also a "Way of White Edition" available – a white covered version featuring a gold foil emboss. Other goodies on offer include a limited edition Kickstarter poster designed by Hind and a 'Copper Coin' – "backers will earn a chance to be awarded a rare piece of loot."
If you're keen to find out more, head over to the You Died Deluxe Hardcover Edition Kickstarter page, where you can get a good look at the book's design and the rewards on offer for backers.