Us life game fans can now unite in excitement as Disney Dreamlight Valley receives yet another big update featuring the game's biggest story expansion yet. After the devs showed off a roadmap of future updates, we have all been speculating what the closest one could bring. From a brand new Star Path themed around Pixar to full-on furniture customization, the patch notes are finally out and this Dreamlight Valley update is one you simply cannot miss out on.
The Remembering Update, also known as Update 5, now has patch notes to accompany its arrival. Us Dreamlight Valle players can expect to download the free new content as it arrives tomorrow, June 7 at 6am PT / 9am EST / 2pm BST / 3pm CET. Some of the smaller changes you can expect to see involve various bug fixes, from quest issue resolutions to commonly encountered random hiccups.
More significant content coming with the Remembering includes Dreamlight Valley's biggest story update yet, as the developers say that "The Forgetting comes full circle" with this patch. You won't need to wonder about that giant pumpkin anymore either, as the Fairy Godmother, along with her set of unique quests, will also arrive in the Valley. Cinderella herself is sadly not joining her just yet, but she is sure to come in a future update.
The brand-new Wonder of Pixar Star Path is replacing the old one, featuring exclusive items from the upcoming film Elemental, as well as other iconic Disney movies like Inside Out, Finding Nemo and Finding Dory, and Turning Red. The Premium Shop is going to host new limited items, too, including a dark castle-themed house, vacation-inspired Dream Styles for multiple characters, and animal companion skins.
We can also finally preview the Premium Shop's items before committing to purchasing them, which I could not be happier about! If I'm going to spend a decent amount of my real money, I want to check out what I'm buying first. If you'd prefer to stick to spending in-game currency only, though, no need to fret.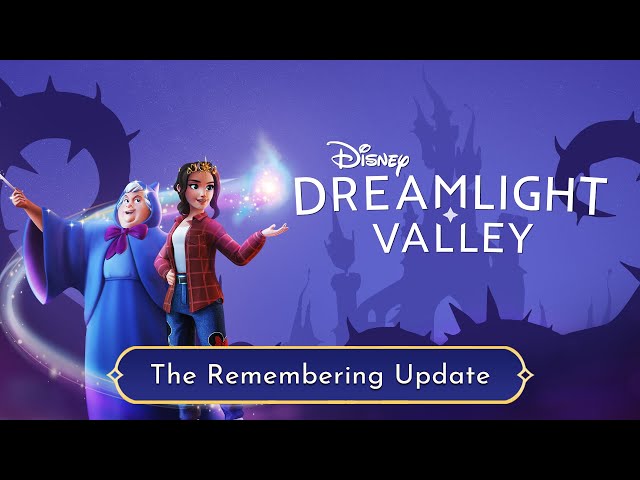 Scrooge McDuck's Store is receiving a huge new shipment with a variety of items, including a range of pumpkin-themed goodies. For (quick to forget) players like me, it is now also easier to track which items from Scrooge McDuck's Store you've previously bought and which you haven't yet thanks to a red dot which will be displayed on unowned items in-store.
Customizing your space is also easier than ever now, with the addition of fully motif-able furniture. Yep, the Touch of Magic feature is finally coming to furniture, which means I am promptly going to add mushrooms to everything I own. Not only can you customize your house's furnishings now, though. You can add multiple player houses to your Valley, each with its own unique style.
More notable changes accompanying the Remembering update include a mannequin feature that allows you to set up a wardrobe, roads with borders, premium skins for tools, and a handy news feed on the game's start menu detailing all of the latest updates. Last but not least, achievements are coming to Dreamlight Valley on both the Epic platform and Steam. I am kissing hundreds more hours goodbye right now because I know I will be achievement hunting like no tomorrow as soon as the update hits.
For the full patch notes, be sure to read more on the Remembering update here.
You can also look through some of our other favorite sandbox games to let your creativity run loose outside of Disney Dreamlight Valley. Some of the best building games may also interest you as they include some really similar themes—from the decorating to the exploring.