Evercore Heroes' unique selling point is the competitive PvE experience. Unlike Riot Games' MOBA League of Legends, you won't be slaying enemy players; instead, you take on huge AI bosses in a race to the finish line – akin more to the World of Warcraft Race to World First tournament. Evercore Heroes' format is quite unlike anything we've ever seen before, but how have players reacted? I asked Vela Games' marketing operations lead, Trey Douglas.
When Evercore Heroes was first revealed, Vela Games' CEO and co-founder Travis George told me that the team doesn't "even try to put a genre label on it," instead just describing Evercore as "its own thing." It makes a lot of sense, given there's PvE elements, mixed with the traditional PvP MOBA setting, and even some MMORPG features thrown into the mix, too.
It's certainly quite the chimera, but given the relative similarity to League of Legends, I wondered how battle-hardened LoL ranked demons would take to Vela's PvE experience.
"There's been a little skepticism in some areas, concerns that no PvP will somehow make the game lesser," Douglas tells PCGamesN. "But that's really half the point of Evercore Heroes; we believe that there's a strong market for cooperative play and generally, our community has pushed back on that narrative that we need PvP to be interesting.
"I think that, for some people, they equate PvE with 'simple' or 'easy' and that's just not the case with us – even before you consider the competitive element at the core of the experience! But we really believe that deep, masterful, cooperative PvE experiences can be just as intense as any game out there."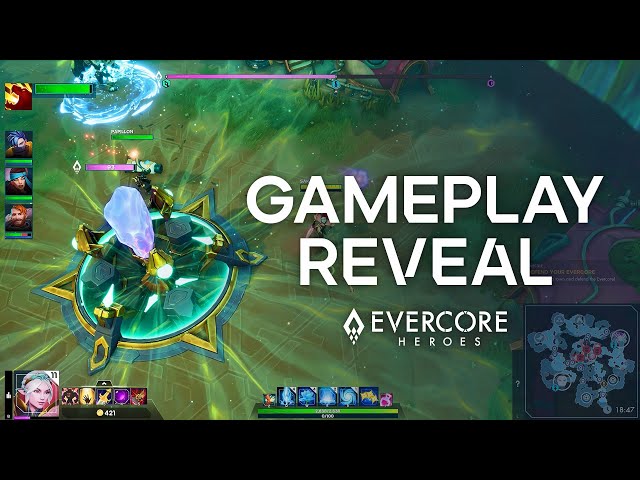 Yet, as a member of the Evercore Heroes Discord server, I can confirm that the game's community has blossomed into something that's pretty special. There's a real buzz about the game, so I asked Douglas what it feels like to have accrued such an excited fanbase when the game isn't even out yet.
"We're frankly blown away by how positive the response has been both from the press and the public," he tells me. "On a personal level it feels very validating knowing that something the team has put so much love and care into has been received so well, it's given us a big boost of confidence going into closed beta for sure."
"Without any hyperbole, this is by far the nicest community I've ever interacted with in my career," he continues. "There's so much positivity expressed by our long-term fans and it's so fascinating to watch new people immediately align to that energy.
"We'll still face the occasional tough question but every interaction is
respectful so far. People are genuinely interested in what we're up to and why we've made decisions, it's really uplifting knowing that we can be transparent and get both a fair hearing on our ideas, validation on things that work, and good feedback on those that could do with some changes.
"What's clear is many of them feel that even with games they enjoy there's less variety out there than the number of weekly releases would suggest. We're just happy to see so many people enjoying their interactions and making new friends around the game."
I think that's what makes Evercore so special – the friends you make along the way. As someone who has berated many a teammate in League of Legends, it feels like the PvE format is built for players to make friends instead of tearing each other down. The competitive element is a subtle yet important undercurrent, and that's why I'm so excited to try out the Evercore Heroes beta later this month.
Until then, I'll have to sate my urge for all things magical by checking out some of the best fantasy games out there.