October 29, 2019 Patch 5.1 goes live today.
Final Fantasy XIV Online's huge expansion Shadowbringers gets another meaty chapter packed with scenario quests, an alliance raid, New Game+ feature, and other shiny new content to get stuck into today. Path 5.1: Vows of Virtue, Deeds of Cruelty brings the first major update to Square Enix's MMO game since Shadowbringers launched this summer, with even more on the way as part of the ongoing 5.1x series in the coming weeks.
Announced in a press release today, Patch 5.1 adds, in addition to the next chapter in the game's main storyline campaign, a 24-player alliance raid called 'The Copied Factory.' This is the first instalment of the Final Fantasy XIV YoRHA: Dark Apocalypse raid, which ties into the Nier universe. The raid, featuring guest creators Yosuke Saito and Yoko Taro, will see you venture into a whole new raid dungeon "inspired" by the hack and slash RPGs' world, and take on some "machine lifeforms" along the way.
The update also includes a cool new feature called 'New Game+' that lets you return to your favourite moments in the game so far without losing your character or current level. Have some completed quests, battles, cutscenes, or even dialogue you'd like to do or see again? Patch 5.1 will let you journey back, and includes the main scenario quests from days of Heavensward, Stormblood, and Shadowbringers gone by.
Patch 5.1 also brings a new trial against an old enemy – 'Hades (Extreme)' – as well as a 'Grand Cosmos' dungeon set in an elf-made palace, and new Beast Tribe side quests based in the pixies' wondrous Garden of Dreams, Lyhe Mheg, for you to get your teeth into.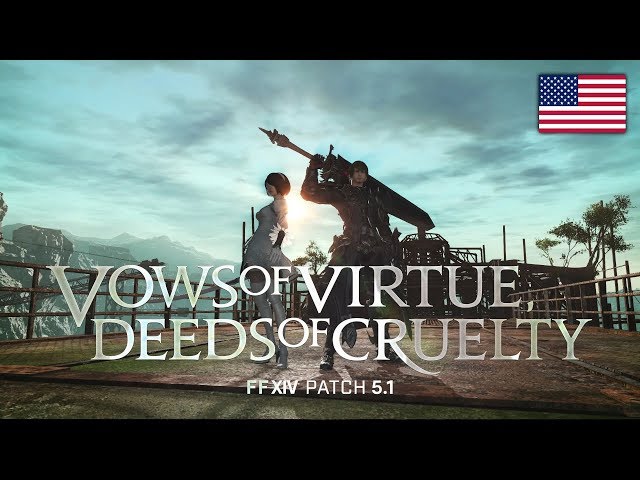 Ninja, Samurai, and Summoner jobs get some "comprehensive" adjustments, too, while other jobs get some more minor tweaks. Plus, crafting and gathering get a bit of an overhaul, with the patch bringing some adjustments to actions and UI improvements, as well as removing additional actions. If that wasn't enough, the patch also adds a new minigame with a Gold Saucer gate called 'The Slice is Right,' a 'Fellowship' community system, as well as other system updates – and more.
On the way in the 5.1x series is some new crafter and gatherer content called 'Ishgard Restoration' which will get players working together to "restore the Firmament to its former glory," an ultimate difficulty raid, 'The Epic of Alexander' (both in patch 5.11), plus a new PvP frontline map, 'Onsal Hakair (Danshig Naadam)' and updates to Blue Mage, which will both follow in patch 5.15.
If you're keen to see more, head over to the Patch 5.1 Notes on the Final Fantasy Shadowbringers 5.1 patch site for a comprehensive look at what Vows of Virtue, Deeds of Cruelty brings.