Where is Fortbyte 64 in Fortnite? Well, for starters, you're going to need to find the Fortnite Stunt Mountain location, first. Another day, another piece of the engrossing battle royale puzzle has landed in the game, and we're going to show you where to get it.
If you're not up with the latest exciting set of challenges to hit Epic's barnstorming battle royale, the Fortnite Fortbytes locations challenges are a set of 99 tasks that give you puzzle pieces. These then combine to give use a big clue about the wider narrative of season seven. That next one is Fortnite Fortbyte 64.
So, first things first, you need to get to this hidden byte as the Fortnite Rox skin. This is for season 9 Battle Pass owners only, but those of you that have that will have her unlocked at tier 1 anyway. Now all there is to do is land as Rox at Fortnite's Stunt Mountain to get Fortbyte 64, so we're going to show you exactly where that is now.
Fortnite Fortbyte 64: Stunt Mountain location accessible by Rox
This mountain specifically aimed at daredevils can be found directly south of Pleasant Park – that lovely 'burb is located in the north-west region of the map. On the map and video below you can better see what we mean.
You need to land at the very top of this big ol' hill and, when you do, you should see the outline of Fortnite Fortbyte 64, but it'll only be able to pick up if you have the Rox skin equipped. Then hit 'E' on your keyboard to get it, and the latest piece of the mystery is yours.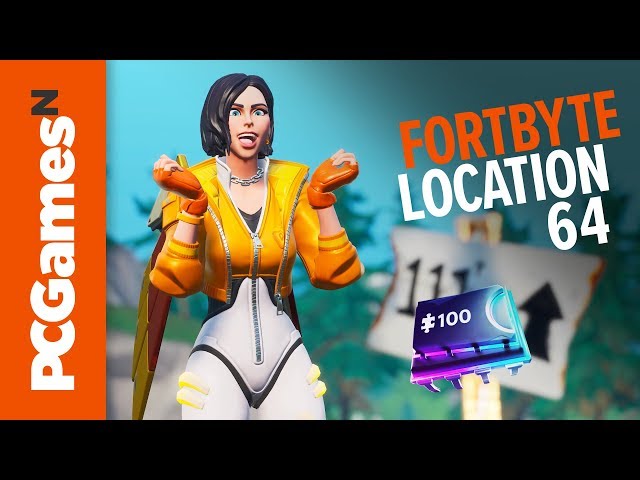 And there you are, that's how to find Fortnite Stunt Mountain to grab yourself Fortbyte 64. However, there's another 98 in total for you to get in one way or another, so be sure to crack on with the rest. Others can be nabbed only through grinding challenges, XP, and Battle Pass tiers, so get playing loyal Fortnite-r.