Xbox boss Phil Spencer recently revealed that Gears 5 outsold Gears 4, even though it's on Game Pass, and it looks like the game's developer, The Coalition, put some serious thought into how to bring more people into the Gears universe before its release. Studio head Rod Fergusson has talked about how the subscription service has changed their approach to development – and it comes down to inclusive design.
Speaking at the Montreal International Game Summit (via GamesIndustry.biz), Fergusson raised the point that Gears 5's inclusion in the Xbox Game Pass from day one meant many more people than usual would be giving it a go. "Before there was a $60 barrier, where you go, 'Do I want that game?'
"But now this little tile was going to light up in their library for millions and millions of people. So how do we welcome these people? These are people who maybe have no idea what Gears of War is," he said. The key to this, according to Fergusson, is based on making the game design inclusive, which he illustrated with the principle: "Unless you consciously include, you will unconsciously exclude."
The studio head said that there were three areas in which getting inclusive design right was vital: accessibility, approachability, and diversity. On the topic of approachability, Fergusson indicated that Gears 5's support robot character, Jack, was a good example: "We took something most beginners would play in Jack, and now Jack is wanted. People would welcome a Jack player […] so it made it a lot more friendly and welcoming ecosystem." (He also mentioned how Gears 5 was inspired by Super Mario Galaxy in this area).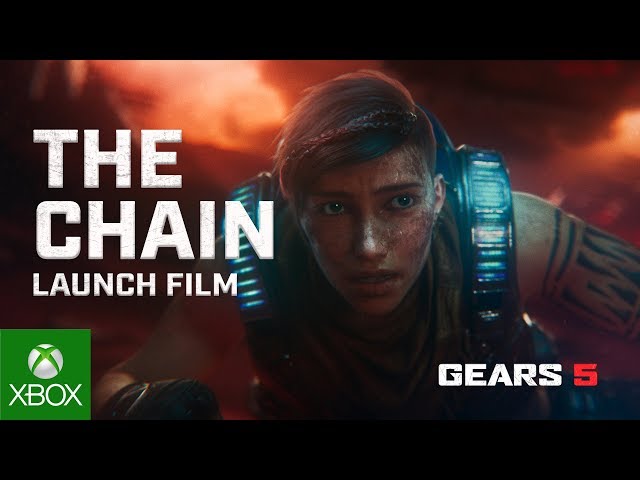 In making the game accessbile, Fergusson said the studio held a two day long "inclusive design sprint," inviting relevant subject experts and players with disabilities in to consult and offer feedback. He also referenced the Xbox adaptive controller and Microsoft's Gaming for Everyone initiative, something which has also been relevant in the design of upcoming Microsoft Flight Simulator.
In terms of diversity, Fergusson raised the example of the Gears 5 multiplayer LGBTQ+ Pride banners, saying that he asked the devs to make these available to players sooner than a few months after launch.
Fergusson concluded: "[Gears 5 is a] thick-necked, testosterone-filled, gory shooter that's trying to do all these things that are new and different. And it's just because we were trying to be more inclusive of our players because we knew we were going to have this large audience of new players coming in."