Developer 10 Chambers Collective has just unveiled new gameplay footage of its upcoming co-op action-horror game GTFO. Giving players a gander at one of the devs' own sessions, the footage showcases some of the tension and tactics the game looks set to bring – plus, with perfect timing for Halloween, some really creepy monsters. But that's not all – the Stockholm-based studio is inviting players to jump in themselves this spooky season as part of an Alpha, running later this week.
Unveiled in a press release today, the new footage offers just under nine minutes of the devs' gameplay footage, which sees them take on the roles of 'Scavengers' in a team of four "forced to explore and extract valuable artefacts from a vast underground complex that has been overrun by horrifying monsters," according to the video description. You can check the full footage out below.
It looks like the footage gives a good sense of how tension and action the game will build – the devs' first moments in the spooky, darkened complex are all about communication and building a strategy to take down the monsters that prowl about, making otherworldly-sounding rattles and croaks alerting you to their presence. As the team starts taking them out, the music builds, and more and more monsters rush the Scavengers as the footage ends. Gulp.
The video also offers a glimpse at the kind of weapons and techniques you'll get to use in the game, including blunt force melee options like a hammer, and sighted automatic rifles. Get a look below.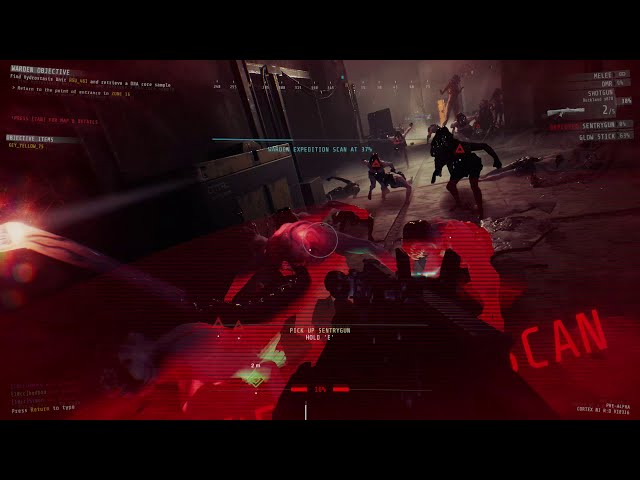 WHEN IS THE GTFO RELEASE DATE?
Perhaps most excitingly of all for those keen to get their teeth into the game, the devs have also said in the press release that they're aiming for an Early Access GTFO release date in "late 2019" (it was originally set for a spring release date). There's no confirmation of a specific date to mark on the calendar just yet, but given that we're rapidly approaching late 2019, hopefully we should know soon.
The upcoming GTFO Alpha will launch this Halloween weekend, kicking off October 31 and running until November 2. If you're tempted to join the (little bit terrifying) fun, you'll need to sign up to become a 10 Chambers Ambassador here to be invited to get involved. Just be ready to work as a team to fend those big ol' monsters off.