When is the Hellblade 2 release date? After several years of development, Senua's Saga: Hellblade 2 finally has a release date window. If you've always wanted to fight giants in ninth-century Iceland, and you don't mind some side commentary from the Fury voices in your head, then you might want to read on.
Senua's Saga: Hellblade 2 is a sequel to Hellblade: Senua's Sacrifice, a story game released in 2017. Developed by Ninja Theory, it follows the titular hero, a Pict warrior named Senua, who suffers from psychosis and personal trauma. If you want to find out more about this brave warrior's next adventure, here's everything we've learned about Hellblade 2 so far.

Hellblade 2 release date window
The Hellblade 2 release date is sometime in 2024. This was confirmed by developer Ninja Theory in the official gameplay trailer released during the Xbox Showcase 2023.
The sequel to Hellblade: Senua's Sacrifice was first announced during the Game Awards 2019. While updates were sparse in the following years, Ninja Theory assured us that Hellblade 2's development was on track in an update video released in June 2021.
Given that the Hellblade 2 release date window was confirmed in June 2023 during Summer Games Fest, we don't expect to receive a more precise date from Ninja Theory until 2024.
Is Hellblade 2 on Game Pass?
Senua's Saga: Hellblade 2 will be available on Game Pass for PC and Xbox from day one. It will also be available to purchase on Steam for those who aren't subscribed to the platform.
Senua's Saga: Hellblade 2 trailers
As shown in the Hellblade 2 reveal trailer's spectacular opening shot, the second installment of Senua's Saga takes place in a desolate, cold land surrounded by a vast ocean. And when we say 'desolate', we do mean desolate – besides a tiny village, there's nothing there but plains.
The Hellblade 2 announcement trailer then cuts back and forth between Senua, who partakes in a fiery ritual, and a group of warriors sneaking along a dark shoreline. See that monstrous giant near the end? Let's hope we don't have to fight that one…
In the first Hellblade 2 gameplay trailer, released in December 2021, we follow Senua as she leads a group of warriors inside a giant's lair (yes, another giant). They manage to set the giant on fire, but far from killing it, the giant crawls after Senua as she runs away. To make matters even more mysterious, the gameplay trailer ends with the giant asking Senua to save him, and Senua recognizing him as someone from her past.
In a third trailer, revealed during the Xbox Games Showcase as part of Summer Game Fest 2023, Senua speaks with another strange creature who seemingly knows her. Like the reveal trailer, this sneak peek explores the action-adventure game's atmosphere and story rather than gameplay.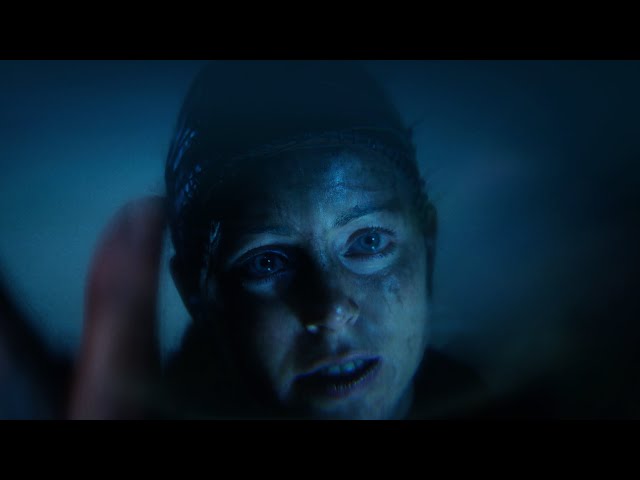 While technically not a trailer, Ninja Theory also has a video showcasing their real-time facial animations for Senua. If you're eager to see the astonishingly detailed graphics made possible by Unreal Engine 5, give it a watch.
Senua's Saga: Hellblade 2 gameplay
Based on the gameplay trailer, it's safe to say that Senua's Saga: Hellblade 2 will stick to a third-person perspective, complete with lots of sneaking around in a rather gloomy environment: ninth-century Iceland, to be exact.
The highly cinematic fight against the giant shown in the gameplay trailer is notably different from the frequent one-on-one arena fights in the first game, but there's a good chance that the latter will reappear in Hellblade 2. As promised by chief creative Tameem Antoniades, combat in Hellblade 2 shall be "extra real and brutal." Melina Juergens, the actress who plays Senua, received extensive training in swordsmanship for exactly that purpose.
As you've undoubtedly noticed during the trailers, Senua can still hear the voices of the Furies in her head. Just like in Senua's Sacrifice, they're constantly whispering to her – offering advice, pointing out enemies, and giving out warnings. They may direct us to nearby puzzles too… if Senua's Saga: Hellblade 2 contains any puzzles, that is.
Senua's Saga: Hellblade 2 story
The following text contains spoilers for Hellblade: Senua's Sacrifice.
In Hellblade: Senua's Sacrifice, Senua finds herself in a strange and immensely dangerous realm, looking for relief from her personal suffering. Throughout the game, she was haunted by her psychosis, the cause of the voices in her head. Senua's Saga: Hellblade 2 shows a much more confident Senua who seems to have fully accepted the psychosis as a part of her life. She's no longer fighting it, but… using it, perhaps?
Even more interestingly, Senua is surrounded by people, possibly her kin. She's clearly taking on a leadership role, even leading them into battle against the giant. As she was previously shunned for her condition, this seems a welcome yet surprising change.
That leaves the question: what drives Senua to go on another journey in Senua's Saga: Hellblade 2? This is pure speculation, but it seems likely that Senua is coming to terms with her past, and in particular, with her father's betrayal. Alternatively, the story may focus on Senua's newfound leadership position and explore the sacrifices involved. As the voice-over in the gameplay trailer says: "to lead others to death brings a different kind of burden".
That wraps up our knowledge of Hellblade 2. While waiting to fight cave giants in ninth-century Iceland, perhaps now is a good time to revisit our Hellblade: Senua's Sacrifice review to prepare for the sequel.