After more than ten years of build-up, Avengers: Endgame is finally in cinemas. To date, 21 movies have been created to form the Marvel Cinematic Universe (MCU) – all leading up to Thanos's conquest and the Avengers' desperate attempt to stop him.
While The Lord of the Rings films and the recent Star Wars trilogy felt similar in scale and excitement, it's likely that Endgame's cultural impact will eclipse even these heavyweights. That gives us all the more reason to prepare before seeing it – err, even if it's for a second or third time.
Sure, you could sit down to watch every movie that leads up to Endgame – but why not get into the zone by playing the best Avengers games on PC? Hulk, Captain America, Iron Man, Thor, and most other Avengers have been playable at some time or another, even in Lego form.
So, without further ado, here's our list of the best Avengers PC games available, starting with the four that do the finest job of making you feel like the most famous of the MCU Avengers, followed up by the leading games that let you play as many of the other Avengers. It's a list that will undoubtedly help you prepare to see Avengers: Endgame – just try not to leap up from your seat to take control of proceedings.
Iron Man
Iron Man kicked off the MCU in 2008 and has since had his own game to go alongside each Robert Downey Jr. movie. They're all quite dated, at this point, with PS3 visuals and voice acting that doesn't feel quite like the characters we know and love. But despite the ageing drawbacks, Iron Man features Anthem-like flying and chaotic run-and-gun firefights alongside a story that mirrors its silver-screen companion. It's damn good fun if you have time for it.
If for no other reason, it's worth playing through this Iron Man game to see where the entire MCU started. Endgame is hyper-focused around the main four-man Avengers team, so it's worth getting caught up on our egotistical friend, and remember where he started. Then you also have a reference point if you want to see how he's evolved over the past ten years.
The Incredible Hulk: Ultimate Destruction
Hulk has been treated oddly in Marvel's movie adventures. The green monster's original actor Edward Norton was replaced by Mark Ruffalo after the debut film didn't really catch on. And we didn't even see Bruce Banner go full Hulk in Infinity War. In fact, there have only been a handful of occasions where the potential of one of the most powerful heroes in comic history is realised on screen.
might still be one of the best Hulk games ever
While not originally released on PC – don't fret, it's easy to find an emulated version – The Incredible Hulk: Ultimate Destruction might still be one of the best Hulk games ever made. The plot revolves around Bruce Banner's effort to stay as far away from civilisation as possible while he attempts to cure himself – so it'll help you understand his struggle.
But beyond that, Ultimate Destruction gives you a sizeable world, plenty of freedom, and the ability to smash almost anything. It really makes you feel like the Hulk.
Captain America: Super Soldier
Captain America has the most interesting slate of films in the MCU as The First Avenger, The Winter Soldier, and Civil War have all had a huge impact on the universe. All three movies are gritty, incredibly entertaining, and vital to the evolution of the Marvel films as a whole. Plus it's just wild having the opportunity to play as a super soldier fighting through Nazi Germany.
Captain America: Super Soldier – which came out in 2011 for consoles, so you'll need an emulated version – sees Chris Evans reprise his role as the patriotic hero in a third-person action-adventure. It's got solid combat that resembles the Arkham series of Batman games and features a faithful design for Cap's iconic shield and outfit. It might even be the best videogame depiction of the shield-slinging cornball.
Marvel vs. Capcom: Infinite
If you want to play as Thor then your best bet is to side with Marvel vs. Capcom: Infinite. Unfortunately, this game's Thor isn't based on the one that Chris Hemsworth portrays in the MCU, but you'll still get to learn the basics of his moveset, wield Mjolnir, and even wear that silly helmet sometimes.
On top of that, this fighting game provides a sizeable selection of characters from across both Marvel and Capcom's impressive library. Work has been put into giving each character enjoyable mechanics that bring them to life as you punch the snot out of the entire roster.
Disney Infinity: Marvel Super Heroes
Now that we have the core Avengers out of the way, it's time to breakdown the best experiences that include all of them in a single package. Disney Infinity, which is easily found on Steam, has tight, toy box gameplay that includes a ton of recognisable Marvel heroes.
Marvel at this
Riot Games has already teamed up once with Marvel to create a comic book series based on League of Legends, but it's happening again. The second comic series follows Lux, the royal Demacian light mage, and her struggle to control her powers in a city where magic is outlawed.
Read more
While finding the physical toys might be tough since the franchise's cancellation – though, you might be able to dig them out of bargain bins – playing as Black Widow, Rocket, Nick Fury, and most other Avengers isn't.
The Marvel Superheroes aspect of the game, also known simply as Disney Infinity 2.0 Edition, contains a main Loki-centred Avengers plot, a story focused on Spider-Man, and a third narrative that follows the Guardians of the Galaxy as they try to steal an Infinity Stone from Ronan the Accuser.
Marvel Ultimate Alliance
Both Marvel Ultimate Alliance and its sequel are a great way to dive into the Marvel universe. The plot of each game shares many parallels with the movies as they explore Shield, Hydra, the Fantastic Four, and many other hero stories. In fact, there are over 140 playable characters and most of them are customisable too, so you can finally play as War Machine Iron Man or World War 2 Captain America.
Even better is that each Alliance game is an accomplished action-RPG that's all about forming a team of four heroes to fight back the evildoers. The remastered PC version is relatively easy to find these days, too, and it's easily the best way to play the game.
Lego Marvel's Avengers
Everyone knows that the Lego games excel at delivering simple combat, plenty of humour, satisfying exploration, and lots of puzzle solving. What makes them even better, though, is if you happen to be a fan of the franchise a particular Lego game is based on. In this case, Lego Marvel's Avengers brings the MCU to life with colourful blocks and plenty of delightful fan service.
Need a new hero? Check out the best superhero games on PC
There are so many Marvel characters to unlock and play. And the process of doing so is fun as heck too, with the PC version of Lego Marvel's Avengers being the best to look at as you smash your way through Manhattan and the SHIELD Base, and save Marvel comics writer Stan Lee from peril in each location. It's an especially great game to play if you have kids, or younger family members, and want to get them in on the Marvel hype ahead of Endgame as well.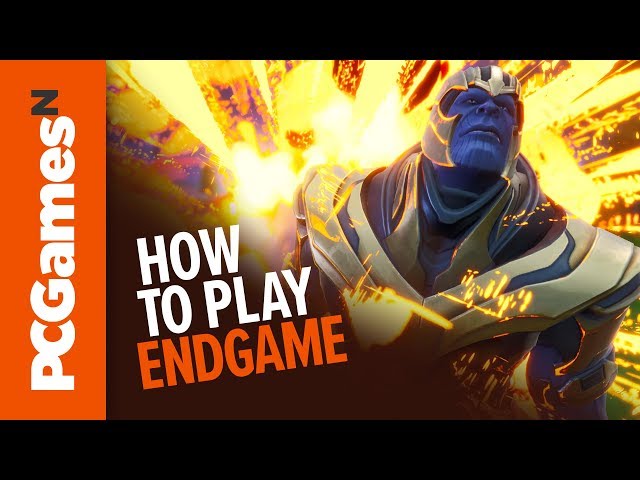 Fortnite
Ok, this one isn't strictly an Avengers game, but the Fortnite Endgame limited time mode lets you go up against Thanos and earn a bunch of cool Avengers kit – including Captain America's shield. If that's not worth fighting for, we don't know what is…