October 20, 2021 Amazon Games has issued a fix in New World's latest patch
Amazon Games has issued a fix for an easily-replicable exploit that has been giving New World players infinite invincibility, which proved particularly bothersome in PvP encounters. The developer confirmed the news in a set of update notes for patch 1.0.3, alongside a host of over fixes.
We won't provide the details here, but suffice to say that the exploit was easy to replicate, and essentially allowed you to remain invincible indefinitely. Players couldn't move while abusing the glitch, but it did allow them to stand forever on capture points, preventing Wars from ever progressing.
In a forum thread reporting the exploit, a New World community manager confirmed the team was aware and investigating. Elsewhere in the thread, the rep said "our top priority with any bugs or exploits that come up is to solve the problem as quickly as possible. If there are folks abusing a bug/exploit we will make sure they are handled by moderation".
New World's debut has been a largely successful one, though there have been plenty of issues – like the delayed server transfer services. That is hopefully about to change, though, as Amazon has revealed its plans for rolling out the service.
Essentially, the team plans to check how the game is running once the downtime for patch 1.0.3 is complete. After that, the devs will slowly roll out server transfers in the southeast region. If all goes well, the team will bring the feature to other regions in the world.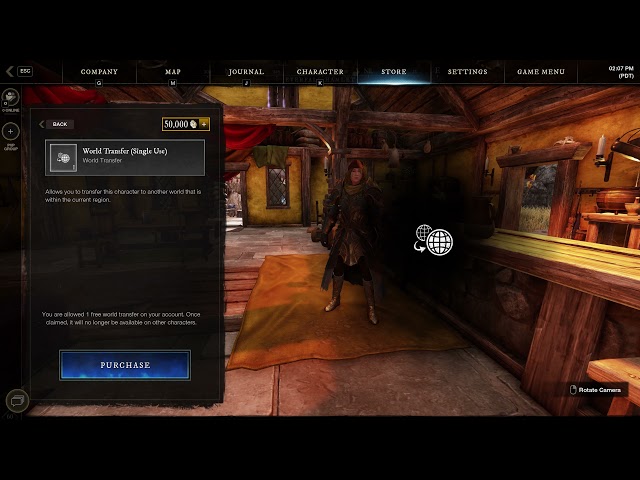 If you've been out of the loop, you're getting one sever transfer for free, though you can buy more if you need them. Simply head to the in-game shop when it's time and you should find your token there. You can transfer to any world in your region as long as it isn't full, under maintenance, or occupied by another character you've created.
You'll keep your character progression, inventory, currency, quest progress, and houses, but company membership, active trading post sell orders, and friend lists aren't making the jump.
Check out our guide to the best weapons in New World in anticipation of a time when you can actually use them to kill other players.