What is the Persona 5 Tactica release date? The latest Persona 5 spin-off is now here, with the game putting us back in the shoes of our favorite heart-stealing high school gang as they're transported to yet another bizarre world where nothing is quite as it seems.
Like the original anime game, Persona 5 Tactica is being developed by Atlus and P-Studio, but the game's tactical combat system and visual style are rather different this time around. The developers have gone for a chibi art style, bringing another level of cuteness to the cast of characters RPG game fans know and love. You can find out how it did in our Persona 5 review, but for now, here's every trailer, story detail, and gameplay feature.
Persona 5 Tactica release date
The Persona 5 Tactica release date was Friday, November 17, 2023. This was announced during the Xbox Games Showcase 2023, alongside a reveal trailer.
Persona 5 Tactica was also available from day one on Xbox and PC if you have a Game Pass subscription. As for other platforms, the game will be released on the Xbox One, Xbox Series X/S, PlayStation 4 and 5, and the Nintendo Switch.
The Persona 5 Tactica reveal trailer reintroduces a familiar group of Persona-users, the Phantom Thieves of Hearts from Persona 5. Take a look below for a breakdown of the reveal trailer.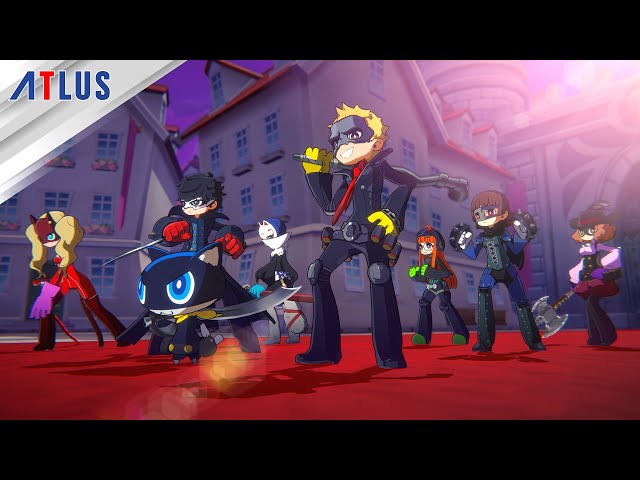 Persona 5 Tactica trailers
After a brief moment of respite in Café Leblanc, the building starts to shake, and the Phantom Thieves are transported to a stately European-style city, too bad its residents are less than friendly.
The second part of the trailer reveals what Persona 5 Tactica's grid-based combat system looks like, plus a few story-related details: at 01:08, you can briefly spot a world other than the starting town, most likely based on feudal Japan. The trailer also shows a new protagonist, the mysterious purple-haired girl at 00:39, and a main antagonist, the purple woman, shown at 01:02.
For a more detailed overview of the characters and combat, watch the Persona 5 Tactica character spotlight. This video identifies the purple-haired girl as Erina, leader of the Rebel Corps, and confirms that Joker and Morgana return as playable characters.
Persona 5 Tactica gameplay
Persona 5 Tactica uses a turn-based tactical combat system on a grid-lined battlefield. Players pick from a pool of playable characters to control a team of up to three fighters. It's important to find the right combinations of characters to create powerful synergies and level up their skill trees. You can collect the necessary growth points by winning battles and allowing your characters to socialize during quiet moments.
As the Japanese press release from July 10 explains, the characters' positioning is vital to victory. Keeping your distance and hiding behind obstacles may protect you, but you must also force your opponents out of cover. As you can see in the character overview below, some characters specialize in exposing opponents, while others can seize the opportunity to land some devastating shots.
Damaging enemies or taking damage fills up a character's voltage bar. Once the voltage bar is full, they can use a unique skill.
The following Persona 5 Tactica characters each possess a unique skill:
Joker: Leader of the Phantom Thieves, he uses a gun for single-target attacks. Although he only deals moderate damage, Joker can easily avoid taking damage thanks to his impressive range. His Phantom Judge unique skill can take down enemies while guarding.
Morgana: The cat-like Phantom Thieves member. He uses a sweep attack to blow opponents' cover. His unique Winds of Time skill, with its large AoE (area-of-effect), is an especially effective way to expose enemies.
Erina: Leader of the Rebel Corps. She's capable of dealing high damage against multiple targets at once. Her unique Flag of Freedom skill creates an AoE that makes enemies vulnerable while healing allies.
Persona 5 Tactica story
The Persona 5 Tactica story centers around the Phantom Thieves, the same loveable band of Persona-using misfits from Persona 5. Their goal is to make the world a better place by stealing hearts from corrupt criminals, although they seem to be more occupied with leading a revolution this time around.
At the start of Persona 5 Tactica, the Phantom Thieves are whisked away to the Kingdom, a realm suffering under the rule of an oppressive leader named Marie. Dropped in the middle of a civil war between her and the revolutionaries known as the Rebel Corps, the Phantom Thieves do not receive a warm welcome from Marie's Legionnaire soldiers. Fortunately, Joker and Morgana are rescued from the Legionnaires by Rebel Corps leader Erina. She and Joker subsequently agree to work together in an attempt to liberate the Kingdom.
While the full Phantom Thieves gang was present in Café Leblanc, we expect Joker and Morgana to play the most prominent role in the Persona 5 Tactica storyline. Marie has the power to brainwash people, and it looks like Phantom Thieves Ryuji and Haru are among her victims, the reveal trailer shows them happily posing in front of Marie's flag, after all.
Now that the Persona 5 Tactica release date is here, once you've had your fill, you might want to try the best turn-based games. Or, if you're searching for something tactical, you might be interested in our list of the best strategy games to play in 2023.