August 16, 2018 Maverick is officially the Grim Sky attacker, and he's all about making "murder holes" with his blowtorch.
Ubisoft has just lifted the veil on Maverick, Rainbow Six Siege Operation Grim Sky's new, blowtorch-wielding attacker. The announcement is still light on specifics, but it seems Maverick's gadget will primarily cut small pieces out of walls, letting you peek through and rain bullets on unsuspecting enemies.
The new lore calls Maverick an "enigma within Rainbow Six," who went MIA during the search for missing reporter. "No one knows what really happened to him during those two years, but he's been seen carrying a D.I.Y. blowtorch ever since, one that can make holes in metal surfaces. On the field, he's found multiple uses for it, including but not limited to making murder holes. It takes a patient and fast Operator like Maverick to hold those angles."
Yes, "murder holes." The new teaser video shows a long, horizontal cut burned into a metal wall, with Maverick pointing a pistol through it. Note that the official description says "including but not limited to" – the primary purpose looks to be making new viewports, but it may also be able to serve as a proper breaching tool.
Weapons aren't confirmed yet, though an image posted by Rainbow Six Esports Brazil suggests that the primary is some sort of heavy assault rifle – though it's not one I can identify at a glance.
Check out the teaser trailer below, or on Twitter if this version is region-locked for you.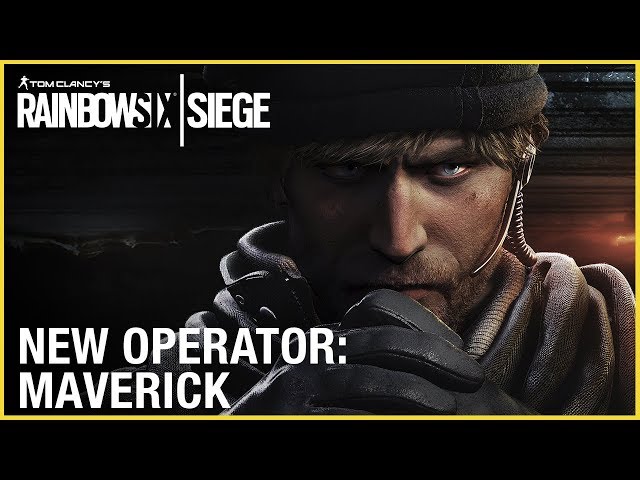 Keep looking for the Rainbow Six Siege Grim Sky release date. We'll find out much more during the full reveal this weekend at the Six Major in Paris, but we already have a pretty good look at Clash's gadget and the Hereford Base rework. We'll find out the rest very soon.