It looks like Rainbow Six Siege players are just about to get some serious gear. A big stream of leaks hit Twitter this week, showcasing a range of cosmetic additions that could be heading to the online tactical shooter very soon. Weapon skins, outfits, and a raft of new ranked charms are just some of the goodies that feature. Oh, and Smoke's new Elite skin – that's a big one.
The jewel in the torrent of tweets, posted by @obutu3_, reveals what the user calls (post- Microsoft translation) the "[World's fastest leak] unimplemented smoke[…] Elite skin". The gas-happy Operator can be seen kitted out in a red and white hoodie sort of reminiscent of a baseball jock jacket, black combat trousers, signature gas mask, and with a red rifle slung over his shoulder. Other weapons kitted out in the same red skin, including a gas cannister, uzi, and handgun, are also included.
Perhaps best of all, though, is Smoke's new MVP animation, which basically shows him spraying some noxious gas with just a little added sass. Players' verdicts on Smoke's new look on Twitter have so far been mixed.
The tweets that follow show many other treats fans of the series can start getting psyched for. There are skins based on a Wild West theme, which perhaps seem a little out of place given Rainbow Six's previously combat-serious aesthetics, but look pretty fun.
【世界最速リーク】未実装スモークエリートMVPモーション pic.twitter.com/u5fKXbD41I

— おぶつ🔪🚗🏀🍙🌸 (@obutu3_) May 21, 2019
There is a load of new season ranked charms (my favourite by far is the kangaroo holding a glowy orb. So glowy!), Pro League set IQ and Tachanka kits, plus an elite MVP animation for Lesion, and more.
Related: Check out the best FPS games on PC
If you're excited to see what Ubisoft has got in store, and don't mind just a few spoilers, head over to @obutu3_'s Twitter page and get gazing at the goodies. Or, check out the helpful compilation video YouTuber Jäger Himself Too put together to see everything in one big go, included below.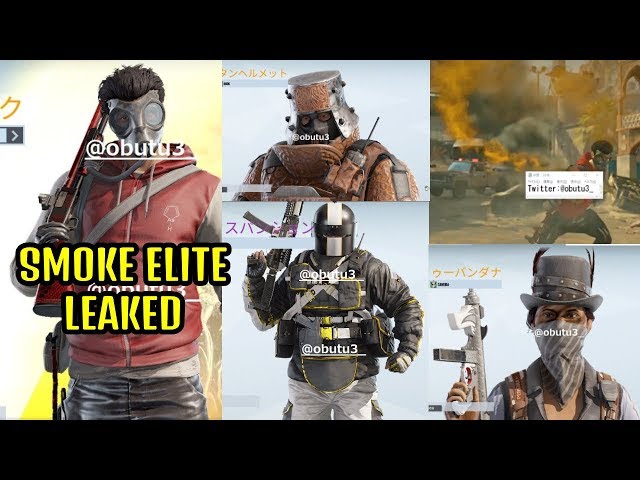 Go get a look. You know you want to.