February 24: Red Dead Redemption 2's Hot Coffee mod has been taken down. If you follow any link to its NexusMods page you'll find it's been hidden since 03:48 GMT on February 24, 2020. We've reached out to the mod's creator and will update this story if more information becomes available. Original story follows.
An old, infamous GTA San Andreas mod called Hot Coffee has been remade in Red Dead Redemption 2, and it's prompted Rockstar and parent company Take-Two Interactive to allegedly issue a takedown request to the modders who added it to the cowboy game.
The original Hot Coffee mod came about 15 years ago when modders discovered cut content in GTA San Andreas' source code upon its arrival on PC. The mod unlocked a minigame, which was intended to be cut from the final game but was still present in its source code, that gamified main character CJ having sex with one of his girlfriends. While you can have intercourse without the mod, it's bluntly implied in a cutscene rather than being a full-blown mini-game that shifts depending what button you press. To trigger either event, you have to take your chosen girlfriend out on date missions to improve your relationship. Once it hits a certain point, she'll invite you inside for coffee – hence the name "Hot Coffee".
The Red Dead Redemption 2 modders' take on the Hot Coffee mod (warning: NSFW) recreates that same minigame, though it follows picking up sex workers in saloons rather than taking girlfriends out on dates. Regardless, it looks like Take-Two Interactive and Rockstar have noticed.
YouTuber Swegta claims Take-Two Interactive and Rockstar's legal representative reached out to one of the creators of the mod, requesting it be taken down. The YouTuber then quotes correspondence between the modder and legal representative that explains mods such as this break the game's End User License Agreement and Code of Conduct, as well as a "host of other legal violations".
The violations referred to are parts I and M of the EULA (linked above). The first part says not to "reverse engineer, decompile, disassemble, display, perform, prepare derivative works based on, or otherwise modify the Software, in whole or in part". The second asks users to refrain from violating any "terms, policies, licenses, or code of conduct for any online features of the Software". Putting the jargon to one side, the representative then underlines that it's the sexual content of the Hot Coffee mod that's causing concern.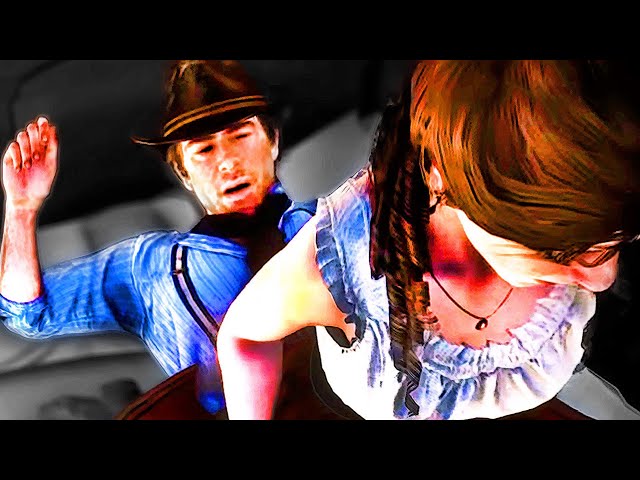 One of the RDR2 Hot Coffee mod creators, Unlosing, has confirmed the legal threat to PCGamesN. "I was a bit surprised and didn't expect Take-Two to worry about a single-player mod this much," The modder tells us. "I find it crazy how Rockstar Games can add hookers to its games, but when someone uploads a mod (not even of the same quality) it's suddenly 'inappropriate'.
"The mod doesn't contain any nudity or nude models, and only uses assets that are still in the game. The animations are from the drunk bar mission with Lenny (which are still in the game), and the 'moaning' noises are simply the sounds the [character models] make when they get injured. Also, they mention 'online services', however this mod is only available for single-player. To answer your question: no, I don't think it's fair."
Rockstar did not immediately reply to a request for comment. Red Dead Redemption and Grand Theft Auto are no strangers to mods. Typically they're harmless additions that allow players to do things like turn GTA 5 into Vice City, or add Elon Musk's daft Cybertruck to their garage. Every now and then, though, a mod gives Rockstar and publisher Take-Two a headache. Given the company's history with the Hot Coffee mod, it's perhaps unsurprising that the developer wants to leave it in the past. As GameSpot reports, the ESRB changed GTA San Andreas's age rating from 'Mature' to 'Adults Only' after the Coffee Talk mod went viral in 2005. This led the game to be pulled from store shelves in America, though the game and its age rating were restored once Rockstar issued a patch and a clean version of the title.
Take-Two Interactive also had to contend with a lawsuit from the LA City Attorney's Office alleging that the company failed to disclose the game's sexual content. "Greed and deception are part of the 'Grand Theft Auto: San Andreas' story – and in that respect, its publishers are not much different from the characters in their story," LA City Attorney Rocky Delgadillo said back in 2006 (via Ars Technica). "Businesses have an obligation to truthfully disclose the content of their products – whether in the food we eat or the entertainment we consume."
Rockstar and Take-Two Interactive subsequently settled charges with the Federal Trade Commision later in 2006. Looking back at that period in an interview with the Guardian, Dan Houser reflects that "It was draining and upsetting," going on to call it "a tough time in the company".
Read more: The best sex games on PC
So what's next for RDR2's Hot Coffee mod? Unlosing tells us that while he hasn't figured out his next move, he doesn't plan on removing the mod. "Since the mod was uploaded by me, it's sort of my responsibility to deal with any requests from Take-Two since I am the only one with the website permissions to take down the mod," the modder says. "I'm really not sure what I want to do yet. I don't plan on taking the mod down any time soon."