Satisfactory will very soon no longer be an Epic Game Store exclusive. Just over a year after the simulation game's launch into early access on the store, developer Coffee Stain Studios has announced it's headed to Steam Early Access next month.
That's according to a press release – and now the Satisfactory Steam page, which has gone live – which announces Satisfactory's debut on Valve's platform is set for June 8. So, it's about a week-and-a-half as of this story before you'll be able to dive into the factory building game's pre-release build on Steam.
According to information on the Satisfactory Steam page, it's not clear how long the dev's planning to keep it it in Early Access for, though it's possible a full release could follow in a couple of years' time. "The truthful answer is that we will stay in Early Access until we feel it's finished," Coffee Stain explains. "What we do know is that we still have tons of content and features that we want to add to the game and polish the core experience at the same time." However, it gives a "rough date" of "2022".
Speaking of that new content, the studio outlines a bunch of goodies headed to game for its full release, explaining it plans to include "at least the following" (via Coffee Stain):
The rest of the FICSIT milestones and tiers
More machines, resources, vehicles, equipment and weapons
Lots of improvements on core gameplay, systems, UI/UX, Quality of Life
Iterate on world, exploration, landmarks, rewards and creatures
Full narrative
More optimisation
Dedicated server support
Mod support
Controller support
Achievements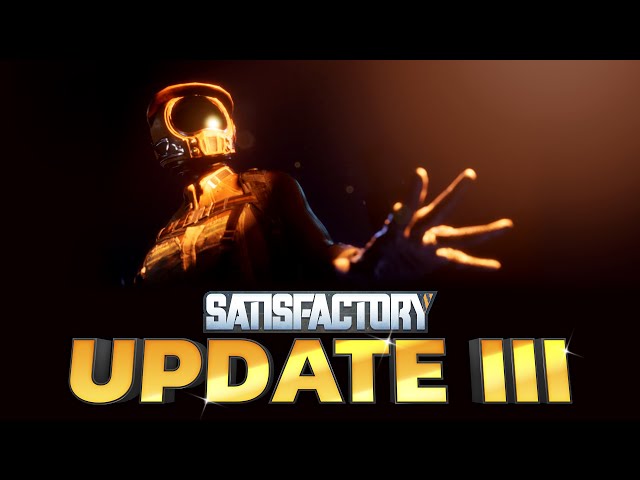 The dev reminds players that three major updates have arrived in the game so far, which have brought things like "a complete rebalance", new resources, a dynamic wind system, jump pads ("for lots of satisfying bouncy chaos"), a "train and track system", new starting area, end-game biomes, like a Swamp, Red Jungle, and Bamboo Fields, as well as "PIPES!" – the most-requested feature from the Satisfactory community.
There's no pricing on Steam for Satisfactory just yet, but the studio says it'll be running a 10% discount on the game when it launches on the platform on June 8.