Sea of Thieves continues its monthly content updates into the new year, as developer Rare has provided our first look at the January expansion. Titled Legends of the Sea, the update helps canonise the game's most notably players as part of the lore, expanding existing easter eggs into a more formal part of the Sea of Thieves.
Legends of the Sea launches Wednesday, January 15 and focuses on the game's most 'legendary' players. You'll get access to a new activity from an NPC named Umbra – who returns from one of the game's more obscure early promotions – which will have you seek out the Sea of Thieves easter eggs that have already immortalised some of the game's most notable content creators. You'll get an array of tattoos and commendations as reward.
We'll see more of Legends of the Sea in the usual update trailer soon, but you can expect a number of quality of life updates to come alongside the new content. Console players can new choose to be excluded from the cross-play pool in Adventure mode – previously, they could only avoid PC players in the Arena.
Destroyed ships will now sink faster in the Arena, too, so they'll respawn and get you back into the action more quickly. If there's a storm in the Arena, there's no longer a chance to spawn inside it. Adventure will also actually give you a chance of finding resources in storage crates – fruit in fruit crates, for example.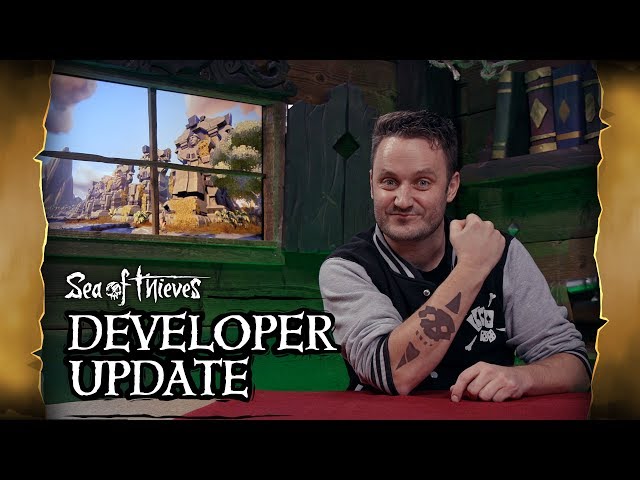 You can hear the full details in the developer update video above, but don't expect these types of rundowns to continue as they have in the past. You'll not get update videos twice monthly, in addition to more behind the scenes content and official community highlights.
Join us in a toast to the 10 million pirates who have ventured onto the Sea of Thieves looking for adventure, glory and a tall tale or two to tell their mates! Cheers to every single one of you, and thank you for joining us on this voyage! 🍻 pic.twitter.com/xXdCKb3Gx7

— Sea of Thieves (@SeaOfThieves) January 8, 2020
The Sea of Thieves player count also hit another major milestone – it's up to 10 million, from 8.4 million after its big Anniversary Update last year. You could argue that a large portion of that number comes from Game Pass, but given how much competition there is out there from completely free PC games, it's still an impressive indication of continued growth for the pirate sandbox.