Sons of the Forest just gets bigger and better with each passing update from Endnight Games. The indie studio knows how to blend horror and survival to create a unique experience where you craft, run, set up camp, craft, and run some more. Its expansive open world is already markedly fear-inducing, with mutant cannibals running rampant about the dark woods. With patch 13, the recent Sons of the Forest update, everything becomes scarier than ever before.
The latest Sons of the Forest update sees the survival gameplay take a back seat in favor of some scarier thrills. Endnight makes its own open world fit more comfortably among other horror games' as the developer amps up its bloody environment and terrifying mutant inhabitants. The patch comes just in time for Halloween, which means I've got my spooky holiday night all sorted.
Endnight begins its patch notes post by referencing less scary changes, like a rework of the gold armor cave and an extension to the rope gun cave. The developer hints at some mysterious additions too, saying that patch 13 brings "a bunch of cool additions and some big surprises." With two new "???" items and three new blueprints strewn about the wooded map, it looks like this update is giving us more fresh incentive to explore.
If you're wondering about the spookier new content, the dev details how the patch adds "a new skinned enemy type who is very aggressive." The patch also gives twins "the ability to burst out through the ground" in both caves and the overworld so if you need me, I'm going to be hiding deep within my fenced camp. The update makes the world a whole lot bloodier too, as Endnight says we can expect to see "a bunch of new gore and hanging gore props."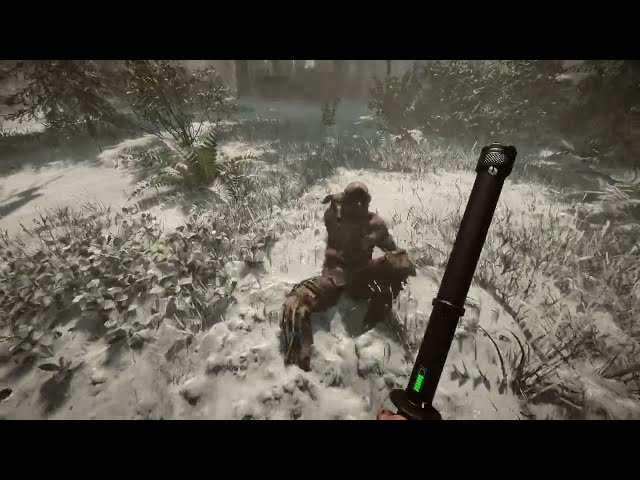 Sons of the Forest patch notes – Patch 13 update – Thursday, October 19, 2023
If you want to take a closer look at all of the audio and bug fixes coming to Sons of the Forest with patch 13, you can head over to Steam where you'll find Endnight Games' official post regarding the update and its extensive list of changes. For new features, improvements, and balance adjustments, check our highlights below.
Features
You can now use tarps to build walls
Added 3 new findable blueprints including a new trap
Added two new ??? Items
Complete re-work of Cave D (and added some surprises)
Added extension to Cave B
New skinned face mask enemy type 'Henry'
Added new round table buildable
2 new magazine props added
Bunch of new gore and hanging gore props
Added some new note pickups
Twins can now break through and emerge from the ground in both caves and overworld
Improvements
Items in inventory will now wobble for a moment when the inventory is opened
Reworked the item plating structure so that you do not need to use the grab bag to add the Solafite
Updated the notes tab in the blueprint book to be grey
The blueprint book will now show the current category page numbers at the top right of the page as well as on the previous and next buttons
Added Tab Collections to the blueprint book so that any page can be directly accessed
Updated the blueprint and tutorial books with the new tab images
Item plating structure can now be destroyed if it is attacked
Added an FPS limiter to the pause menu to fix GPUs being overworked
Switched a lot of item colliders to primitives to improve performance and reduce the risk of falling through terrain
Player is now more easily knocked down when hit by a golf cart
Added left-handed item support while using the log sled
Added ranged weapon aiming sensitivity support to the spear, bow, and slingshot
Smoothed out the transition between default and aimed sensitivity
Added localization for item perishable states
New backings and shadows added to all blueprint images
Some details and tweaks to Cave B
Improved bunker entertainment lighting
Improved details in fishing huts and added breakable planks
Improved Solafite texture detail
Moved PJ's to sailboat
Improved look of bloody katana
Improved fade range for portable light
A small wood bridge added over the jump area in the hell cave
Added missing rocks to hell cave merged collision to stop enemies occasionally falling through the floor
Some improvements to cave A detailing
Merged collision meshes for cave and bunker transition groups and ice caves
Dynamic hanging skull lights added to some caves
Added weather occlusion to old fishing huts
Wall torch now has a fixed orientation, fixes edge cases where the slight tilt causes it to be visually not touching the supporting structure and not be linked for destruction
Lights are now positioned inside the light bulb for the freeform lightbulb and the powered cross instead of floating in front of it so that bringing objects near it looks more realistic
Being inside now prevents snow clumps from spawning at player's feet
Added new unfold animation when placing tarp ramps
Feather bursts tinted to match different colored birds
Kelvin can now retrieve nearby spears
Added additional smoothing of the head look rotation on characters
Balance
Regular Puffies can no longer be skinned for creepy armor, and John2 increased to give 2 creepy armor
Can no longer parry helicopter attacks or body slams by the end boss
Reduced dismemberment on Heavy cannibal kick and club attacks, increased on boat engine
If you're looking for the best way to stay safe following the patch 13 update, be sure to browse through some of our favorite Sons of the Forest base locations. The world can feel overwhelmingly vast at times, but we've got you covered. Alternatively, you can take a look at a few of our other beloved survival games for something new to play after you've exhausted the update's content.