Google Stadia launched on November 19, offering an experience beamed across fibre optic cables from Google's data centres and into your personal devices – all without the need for local rendering hardware of any kind or capability familiar to PC gaming. But despite making quite a splash, it wasn't a home run for cloud gaming, nor the end of days for hardware journos.
So what gives? Stadia was touted as the next evolution of gaming, the metaphorical rising tide that lifts all boats, the game streaming service to evangelize all game streaming services. But when launch day came and went, almost every review, from professional reviewers to redditors, echoed the same sentiment: Stadia launched before its time. Since then there have been a couple of hiccups that have left us unconvinced of its streaming credentials, too.
So is this a case of nascent implementation for streaming technology? Perhaps. But there's more behind Stadia's struggles and its players' trepidation. It's how it will go about convincing PC gamers to get on board. And therein lies the issue: Stadia's business model.
Google Stadia is changing its business model in a sense when it goes free next year. The Stadia we see today isn't the same Stadia we'll experience sometime in the near-future. But there's far more the search engine goliath has to do to make its streaming service work – and crush the competition.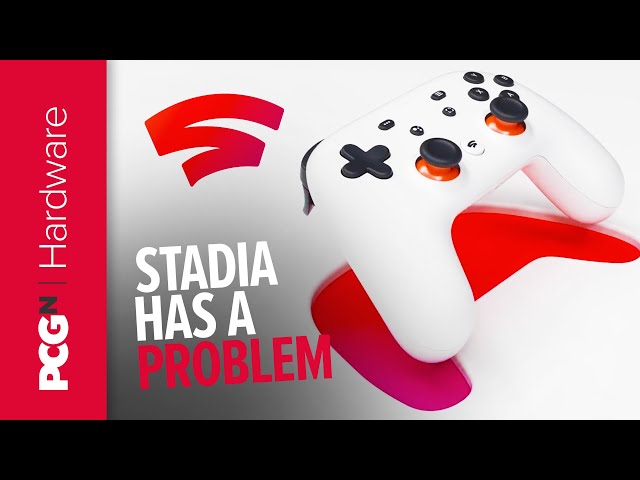 There have been furious reports of latency, lag, and even anecdotal claims of overheating Chromecasts since the service launch. But that's not all that troubling – barring that last part. These technological issues that can be fixed, or at least bandaged up. Give any streaming service a couple of years and ubiquitously fast internet courtesy of fibre and 5G and they're sure to offer up a feasible and functional product tantamount to the real thing playing from a PC tower.
Instead it's the business model behind the company's streaming aspirations that appear to be fundamentally flawed – or at least ill-judged. And we're betting something has to change if it's to compete with its fierce and numerous rivals.
Google's trying to become a holistic gaming platform, and we all know where that ends up: exclusives and tribalism. It's a closed platform, though one that will essentially be available on practically any device, and requires you either buy Stadia games through its store or sign up for the paid Pro subscription.
Now, we'll admit we're coming at this from a PC gaming perspective: everything's got to be open, customisable, cheap, and covered in RGB lights. But PC gaming is a tremendously large market – worth ~$28bn in 2018 in games alone – and a market that Stadia's streaming competitors are vehemently chasing.
Blade Shadow, Microsoft's Project xCloud, and heck, even Nvidia's GeForce Now all have ways of targeting the stalwart PC gamer. Shadow is an entire PC in the cloud, and Microsoft offers Game Pass across Xbox, Windows, and, one day, xCloud. GeForce now is a closed system that allows you to link your game purchases elsewhere into its ecosystem. With competing services offering at least the choice of local and streamed experiences for their preexisting game libraries, Stadia's holistic platform approach is a tough sell. It's one thing getting locked into a platform, it's a whole different ordeal if the entrance fee for said platform is the cost of repurchasing all of your games.
This alone prevents Google Stadia from becoming a true gaming PC replacement. If you really were to turf out your gaming PC to the curb and substitute it for Stadia, you'll be back at library-zero. No games, no backlog, and no 100+ hour untouched RPGs staring you in the face when you go to boot up Stardew Valley with your min-max guide at the ready.
The one thing you will get your hands on that no one else can are the promised Stadia exclusives. Sweet, untested, unknown Jade Raymond exclusives… but those could be few and far between. Stadia's competition also believe Google's first-party titles could become a potential hindrance to its relationships with publishers.
Which brings us onto Stadia Pro. So far the only way to access Google's service, and bundled with the pre-order Founder's and Premiere Editions, Stadia Pro is a premium subscription that is meant to net you access to 4K, HDR, 5.1 surround sound, exclusive discounts, and free games.
But even Google's run into little oopsies in regards to its free games subscription, which is strikingly similar to Xbox Live Gold or PlayStation Plus.
As of today, Destiny 2: The Collection and Samurai Shodown are available as a part of the Stadia Pro subscription. However, Google has announced that Farming Simulator 19 and Tomb Raider: Definitive Edition will be available for free from December 1, 2019.
Users that had already purchased Farming Simulator 19 or Tomb Raider are now able to request a refund for their purchases prior to these games being added to Stadia Pro, and potentially saving them from buyer's remorse (you still have to request this refund manually).
With Google's lineup encompassing just 22 games at launch, this may be an issue that Stadia users run into often – at least until the cloud gaming platform's library expands. PS Plus and Xbox Live Gold also offer similar free games on a monthly basis, but users are notified one month in advance and their libraries are far more expansive than Stadia's.
And that's without mentioning that Stadia Pro promises 4K, but it appears as though some devs didn't get the memo. With the likes of Destiny 2 and Red Dead Redemption 2 definitely not actually rendering in 4K Google has shifted the blame to devs and almost washed its hands of the whole ordeal.
Stadia is a tough sell, and that has very little to do with the actual streaming technology at its core, and any scepticism you may have regarding it.
Google's asking you to take a chance on its Stadia cloud gaming service, and it's just as much a promise for the future as it is a beta test for public launch next year. But we're still not convinced that even when it goes free to play that it will rise above its fierce and experimental competition.