Google has clarified various aspects of its upcoming Stadia game streaming service in a Reddit AMA. In it, director of product Andrey Doronichev answered questions about the service's controller, achievement system, Stadia Pro, and more.
However, perhaps the most important takeaway from Doronichev is the reiteration of what Stadia isn't. In an apt comparison, he says Stadia Pro is less like "Netflix for Games", and closer to Microsoft's Xbox Live Gold. The aim of the platform will be to enable you to play pre-purchased games, not throw down a subscription for unlimited access.
It's a diversion from Microsoft's xCloud, which has been directly compared to Netflix by its CEO. Much like the current Xbox Live, though, Doronichev says Stadia Pro will offer users access to exclusive discounts and free games each month. More accurately, Google is planning around one free title per month, which is less generous than Xbox's three or four.
Stadia Pro is priced similarly to Xbox Live Gold's monthly subscription, at $9.99 a month. It trails behind when considering Microsoft's 12-month plan works out at $5 a month. Of course, you're arguably getting a lot more with Stadia, as you have access to the company's extensive data center hardware.
As well as those details, Doronichev revealed that Stadia will feature achievements, but they won't be present at launch. Also not immediately available is Bluetooth headphone support for the Stadia controller. Its social platform will be available, however, including a friends list, parties, and voice chat.
Google is also doing its bit to try and convince gamers that relying entirely on the cloud infrastructure of a third-party isn't a bad idea. Game streaming opens a lot of important questions when it comes to ownership, such as what will happen if the platform is shuttered.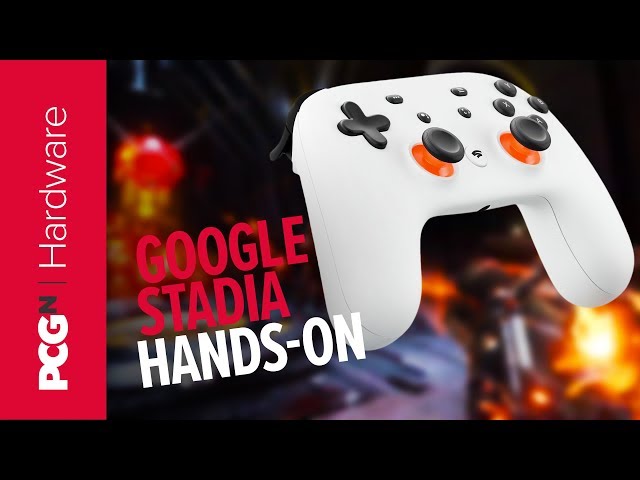 "We get this a lot. I hear you. Moving to the cloud is scary. I felt the same way when music was transitioning from files to streaming. The same happened to Movies and Photos and my Docs and other files… And it's great! Games are no different," says Doronichev. "We've been investing a ton in tech, infrastructure and partnerships over the past few years. Nothing in life is certain, but we're committed to making Stadia a success."
"The games you buy on Stadia are yours to play. From day one we'll support Takeout, so that you can download your game metadata, including saves if you want to."
The director of product did not answer what other metadata would be available to its users, nor exactly what would happen if the service went the way of Google+. When it comes to games users don't have to purchase, it seems they'll be tied to a Stadia Pro subscription, rather than the current truly free-to-play model of PC gaming.
As expected, you'll have to pay to enjoy titles like Destiny or Warframe, then, but with no upfront hardware cost, that's hardly unfair.