As confirmed both in a press release and a new in-game timer, the Division 2's raid, Operation Dark Hours, will release on May 16.
Adjacent to the White house, the Division 2's base of operations, is a recently-added helipad which provides access to off-map game content. If you head to the helipad, you'll be met with a woman in a white t-shirt and dark baseball hat. Interacting with her will bring up a new screen that provides new information about the upcoming raid.
The screen says that "the raid is coming as free DLC," as well as confirming that you'll need eight players in order to complete it. Most importantly, however, it offers a countdown revealing when the raid will begin. That countdown hits zero at 17:00 BST (12:00 ET, 09:00 PT) in two days' time, on Thursday, May 16, which means you've got two days to make sure you're ready to go. Ubisoft has also explicitly confirmed in a separate announcement that this is go-time.
The Dark Hours raid was initially expected to arrive on April 25, but player feedback caused Ubisoft to push that date back to May. Title Update 3 – with which the game was initially supposed to arrive – arrived yesterday, but developers told players that the raid wouldn't be going live straight away. Thankfully, we didn't have too long to wait in the end.
Gear up: Here are all the Division 2 gear sets revealed so far
For now, details are scarce, but we do know that players will be heading to Washington National Airport, attempting to wrest control away from the Black Tusks, who are using it to fly in soldiers and supplies.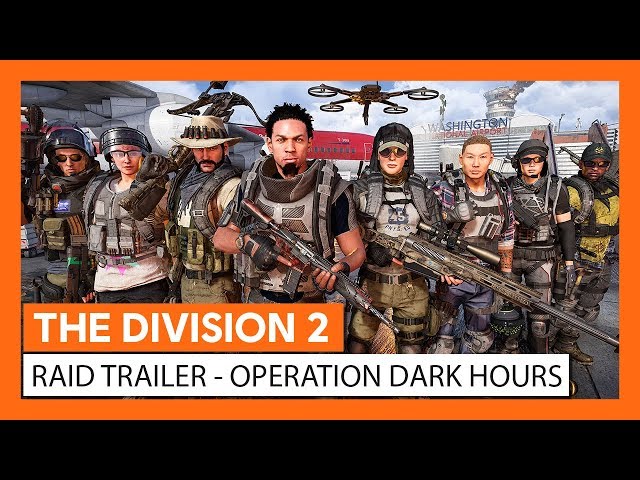 Ubisoft says that the first squad to complete the raid will be immortalised in-game, with a team photo and names displayed in the White House for all to see. Anyone who completes the raid before May 23 will receive a commemorative arm patch, so if you want some goodies for your troubles you'd better go and make sure you're raid ready.