We know that upcoming sci-fci RPG The Outer Worlds from Fallout: New Vegas studio Obsidian will include a Fallout VATS-adjacent system called TTD (Tactical Time Dilation). Used as an aid for aiming weapons at foes, it will have some cool features – as its name implies, it slows time, and also helps you figure out the sweet spots on an enemy's body to shoot at. What we didn't know until now is that it has another intriguing feature – you'll be able to see your targets' favourite foods.
Introduced in a guided demo of The Outer Worlds at this year's E3, this feature could potentially give you the upper hand against your enemies – though it's not totally clear how just yet. It seems that poison will feature to some extent in the game, as during the demo a poisoned blade was shown – perhaps you'll be able to add a little dose of something to an enemy's dinner if you've used the TTD to learn what that is?
Or maybe learning a goon's go-to grub will help you out in social scenarios, where you'll have to draw on any communication-related 'aptitudes' you've set for your character, and use your knowledge to win over (or get out) a situation. Perhaps dropping in a hint that you've got just the right snack could feature into this in the game. Neither is confirmed – but that info will very likely come in handy in some way.
Details on just what kind of foods you might learn about are also currently sparse. In an interview with Outer Worlds Senior Narrative Designer Megan Starks on ShackNews, it was revealed that the game features sausages made of genetically-modified pigs' tumours, branded 'Boarst Wurst'. Yuck. IGN also reported that there is some branded bread in-game called Bred. Plus, in Outer Worlds gameplay footage from E3 there are neon signs advertising pancakes ("now with nearmaple flavour!") and something called "Spacer's Choice", with extra artificial ingredients. I can hear the NPCs' stomachs rumbling already.
Related: Check out the best RPGs on PC
Keen to know more about The Outer Worlds? Check out our video below on 6 ways it's more than Fallout in space.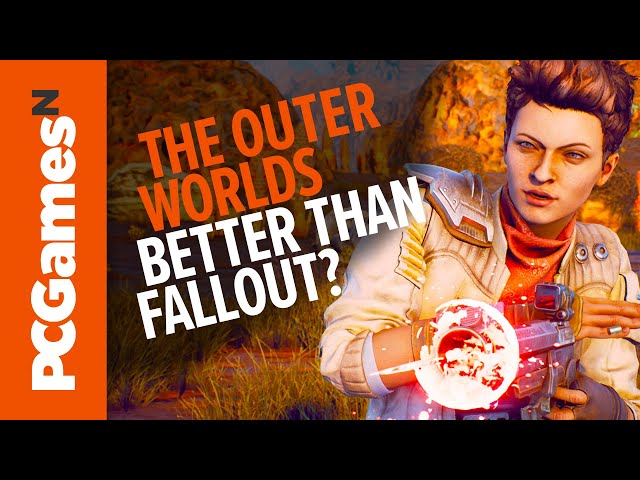 The Outer Worlds drops on October 25. Be ready to use the TTD – you'll be dining out on that info for a while.