CD Projekt RED, the developer of The Witcher series and the upcoming Cyberpunk 2077, has launched a new merchandise store exclusively for products about the studio's games. You can pick up T-shirts, plushies, writing sets, pins – but the standout is an expensive figure that shows Geralt of Rivia in a whole new light.
The Geralt Ronin Statue is available to pre-order at the store now. It costs €220 (with €5 shipping), or around £190/$250, and it strikingly portrays the White Wolf of Rivia as a Rōnin monster hunter from medieval Japan. Or, as it's probably easier to imagine, it's The Witcher 3 crossed with Sekiro: Shadows Die Twice.
The figure is stunningly detailed, with each one individually hand-painted. It stands at 12 inches high, and is made of polystone. It's certainly a fine figure to prove how much of a fan of The Witcher you are, although there are a couple of downsides – it's currently only available in Europe, and it won't begin shipping until at least the end of 2019.
CD Projekt has even added its own lore regarding the statue, giving us a tempting glimpse at an alternate-universe Witcher game with more of a Japanese style. "Set in the Koyasan Cemetery in Japan," the site explains, "the scene depicts Geralt preparing to fight the local Oni – or demons. Accompanied and guided by a friendly Tatarimokke spirit, the witcher will need to use every trick in his arsenal to prevail."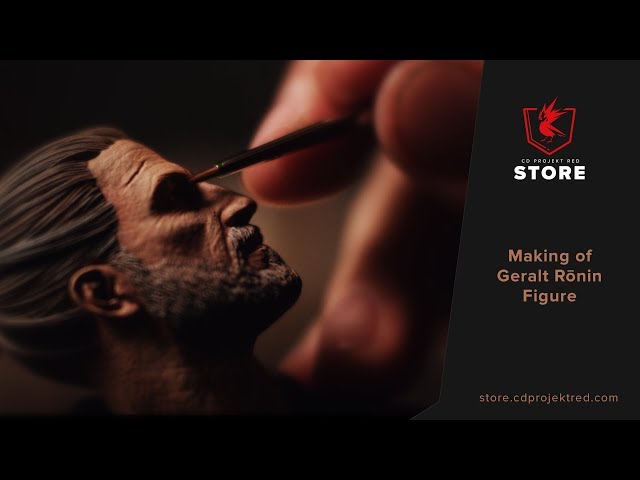 Elsewhere on the store, you can find other merchandise for The Witcher, Gwent, and even Cyberpunk 2077. The Cyberpunk gear mostly consists of clothing at the moment, with more probably coming as the game gets closer to release – we'd be shocked if we don't see an official Johnny Silverhand vinyl album in the store at some point. As for the others, it's mostly clothing – apart from the statue, the other highlight is the adorable Shupe the Troll plushie. He can drink under our bed any day.
Related: check out the best RPGs on PC
Speaking of The Witcher tie-ins, filming on the upcoming Netflix series starring Superman actor Henry Cavill is going well – in fact it's just wrapped up, so we can probably expect to see a trailer soon. Don't expect to see Cavill's White Wolf dressed as Sekiro's Wolf, however. Only in our dreams. And probably mods.