The Tomb Raider Remastered trilogy is confirmed for PC, as developer Aspyr overhauls three of the most important and influential action-adventure games of all time with a shiny new HD look. Tomb Raider I-III Remastered brings together the first three Tomb Raider game along with their expansions, so you can experience Lara Croft's iconic first outing with upgraded hi-res graphics.
Tomb Raider always felt like a landmark moment in games. While many associate Lara Croft with the PlayStation as one of its earliest 'mascots,' my earliest memories of Lara come from playing Tomb Raider 2 on the PC. Running around Croft Mansion's assault course and figuring out how to dive from the high board. Encountering your first tiger inside the Great Wall of China. Being terrified of the sharks prowling the depths of a sunken ship. And, of course, locking her poor, bedraggled butler in the freezer.
Announced for Switch during the Nintendo Direct on Thursday September 14, 2023, the Tomb Raider Remastered trilogy is also confirmed to be coming to PC via Steam. The package includes the following games:
Tomb Raider + The Unfinished Business expansion
Tomb Raider 2 + The Gold Mask expansion
Tomb Raider 3 + The Lost Artifact expansion
Coincidentally, I happened to replay some of the first game at the London Science Museum's 'Power Up' exhibit just last month. It holds up reasonably well, although playing with just keyboard controls and no mouse certainly feels rather dated by modern standards, so it'll be interesting to see whether the movement gets any modernization.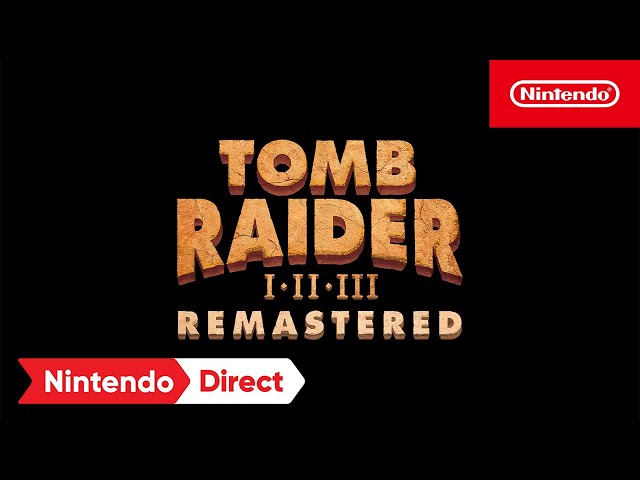 Tomb Raider I-III Remastered releases Wednesday February 14, 2024 on Steam. It's priced at $29.99 / £24.99, with a 20% pre-purchase discount bringing it down to $26.99 / £19.99. You can buy it now or add it to your wishlist on Steam right here.
These remakes certainly spruce up the gorgeous environments for a modern era, hopefully giving more people a reason to revisit a key piece of videogame history. You can also switch between the old and new graphics at any time. It'll be interesting to see how they hold up under a modern lens, but either way they're well worth preserving as key games of the '90s.
Alternatively, have a browse of the rest of the best old games you can still play today, along with all the best single-player games that you should play in 2023.