As is Total War tradition by now, Three Kingdoms has a small piece of DLC that adds a large amount of blood and gore. The Reign of Blood Effects Pack is available on Steam now, and to celebrate, has a messy new trailer counting down the top ten most gruesome kills in the game.
As the trailer shows, Three Kingdoms is a particularly good setting for Total War's customary blood pack thanks to its dueling system, which shows combat in fine detail – including dismemberment. According to a new list of Steam content descriptors, you'll now have "violent battle fatalities, gory combat animations on the campaign map, blood spraying across the battlefield and spilling on the floor, guts spilling out of stomach wounds, blood-soaked event clips, dismemberment of both humans and horses, and decapitation of humans."
Yes, horses are equally affected by the new gore implementation. There'll be a slider that lets you adjust how much gore you see, though no details on whether there are separate horse and human toggles for the animal lovers out there. Either way, you're also getting loads of new death animations for when your characters take down infantry, and plenty of bodies dotting the battlefield in the aftermath of war.
You can see all the gory goodness in the trailer below.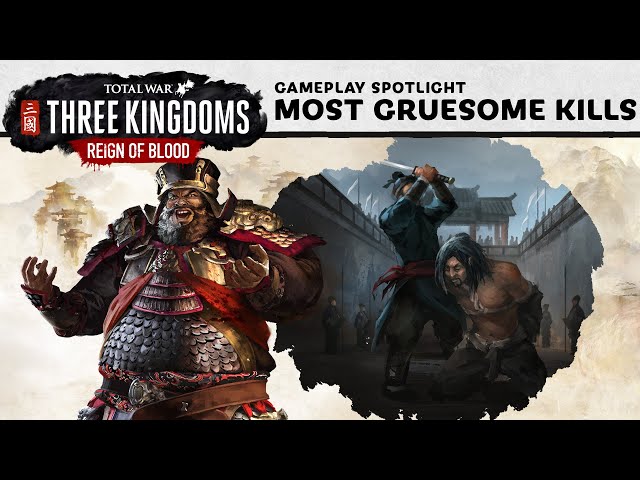 In the past, the Total War community has been upset that realistic blood effects are a) released separately from the base game and b) cost money – even the modest amount that they do. Developer Creative Assembly's explanation for a) has now largely been accepted: bundling them with the base game would raise its age rating and thus limit its audience. As to point b), CA argues they cost money because they cost development resources to make. This point is still slightly begrudged among those who feel the effects should be in the base game, but that leads us back to point a), which has a reasonable explanation.
It's a whole thing. Here's a good Reddit thread on the topic if you'd like to learn more.
The Reign of Blood Effects Pack is on Steam here for $2.99 / £1.99 / €2.99, and is available to purchase and install now.
Related: Command your forces in the best strategy games on PC
Total War: Three Kingdoms sales have been mighty impressive, thanks both to the quality of the game and the setting's popularity in the massive Chinese market.