Two Point Campus is one of 2022's most delightful games. This tongue-in-cheek management game is the follow-up to Two Point Hospital, the modern reimagining of Theme Hospital built by developers from Bullfrog Productions and Lionhead Studios who had worked on the original back in the mid-'90s. Now, as it prepares to leave PC Game Pass, Two Point Campus is briefly free on Steam for the weekend, with a nice discount if you decide you want to keep playing afterward.
As the title suggests, Two Point Campus puts you in charge of running the ultimate academic institution. From laying out your school and buying facilities to hiring staff members and making sure everyone is kept happy and learning, you'll be pushed to your limits as you attempt to fulfill all the needs of your teachers, students, cleaners, cooks, and so on.
Much like you might expect from the makers of Two Point Hospital, the classes on offer range from the fantastical, such as 'Wizardry' and 'Dark Art' lessons, to the ridiculous – 'Knight School' teaches the noble ways of the medieval warrior, while 'Funny Business' is, of course, an exercise in the finer points of clowning around.
Our Two Point Campus review found plenty to enjoy; in particular, its bizarre sport of 'cheeseball,' which is played out in fully-animated matches, gave us a few good laughs. If you've played Two Point Hospital and enjoyed it, Campus is certainly well worth a shot – and while the launch did suffer from several notable bugs and glitches, Two Point Studios has continued to update and smooth out the game in the twelve months since release.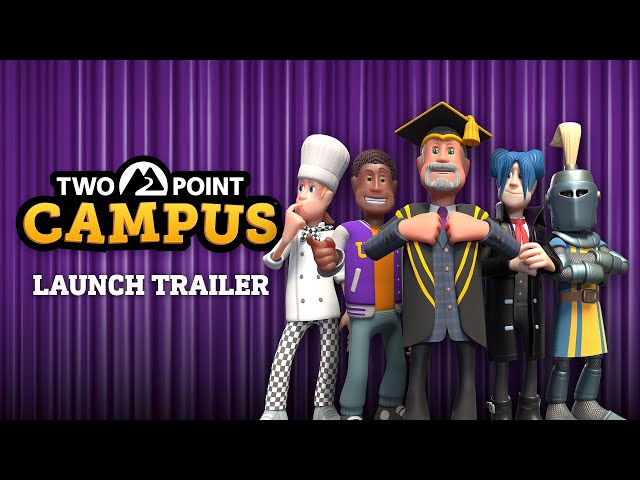 To celebrate the game's first year, you can play Two Point Campus for free on Steam until July 31. There's also a sale, with 50% off the game, meaning it's just $14.99 / £12.49. There are also discounts on all its DLC packs, with the full bundle including the base game and all three pieces of DLC available for 48% off – expect to pay $26.51 / £22.69 for the full lot.
Two Point Campus has also been available on PC Game Pass since its release – but it's leaving the service on August 1, so if you've been playing there and want to keep going, you'll have to pick up your own copy. The Microsoft Store is offering the same 50% discount to Game Pass subscribers right now, so you can choose whichever platform you prefer.
If you decide it's time to pop on your mortar board and get to work, be sure to check out our Two Point Campus guide to get started. Alternatively, browse the best simulation games for plenty more fun recreations of real-world activities.