The first Victoria 3 DLC, Voice of the People, is announced for a May release date alongside a trailer showing off what we can expect from the upcoming expansion pack for the 19th-century grand strategy game. Developer Paradox Interactive teases "over 60 new historical agitators" coming as part of the immersion pack, along with a comprehensive overhaul for the nation of France that brings all manner of new mechanics and decisions based on its history.
Voice of the People centres around a new 'Historical Agitators' system that aims to capture the struggles between reformists, reactionaries, and revolutionaries in the political turmoil of the Victorian era. Featuring over 60 real-world figures such as American abolitionist John Brown, German Socialist Rosa Luxembourg, and Italian nation-builder Giuseppe Mazzini, these famous faces will spring up and can potentially benefit or hinder your intended progress.
You'll have to decide whether you want to invite them into your state, potentially giving them power, influence, or even control over troops, or decide to exile them from your lands altogether. Be warned, however: that might simply lead to them joining up with a rival country who is more welcoming, at which point they could end up an even greater thorn in your side.
The Dramatic History of France is the other major component of the pack, and packs in a wealth of additions for the French nation. There's new events, ideologies, journal entries, decisions, and more as you choose whether to press into North Africa or follow a more continental line within Europe, while also determining the true ruler of France.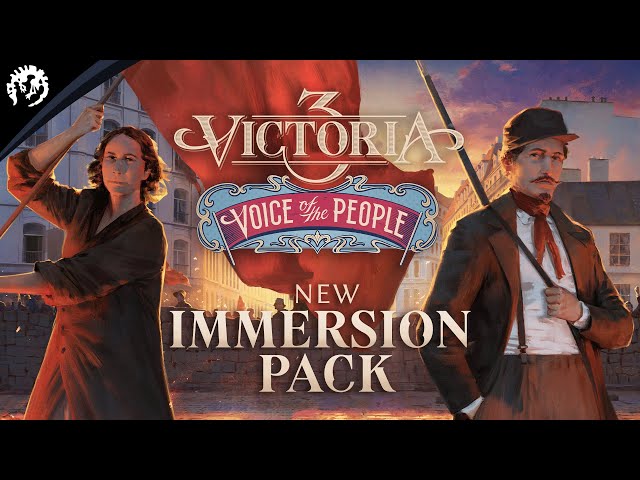 Victoria 3 Voice of the People release date
Victoria 3 Voice of the People releases on May 22 on Steam. It's set to retail for $14.99 / £12.99, and you can pre-purchase it right now. Players who pre-order will also get three additional French characters: Georges Clemenceau, Alexis de Tocqueville, and Jules Brunet. You will, of course, need the base version of Victoria 3 to play, just in case you were wondering.
Get ready for the shakeup by consulting our Victoria 3 diplomatic plays guide and making sure you remember exactly how Victoria 3 trade works. We'd also recommend keeping all the Victoria 3 cheats, codes, and console commands handy – just in case.